Brothers bring home big wins in tennis state championship
November 1, 2015
/
/
Comments Off

on Brothers bring home big wins in tennis state championship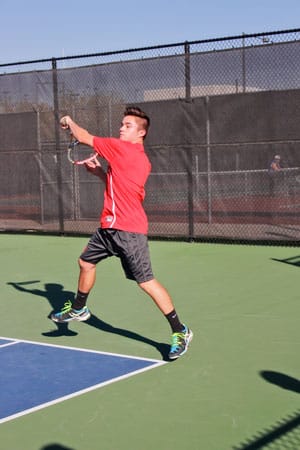 Junior varsity doubles player Erich "lefty" Nuss was thrilled with his team's first place win for Regis Jesuit High School at the 5A state championships last month.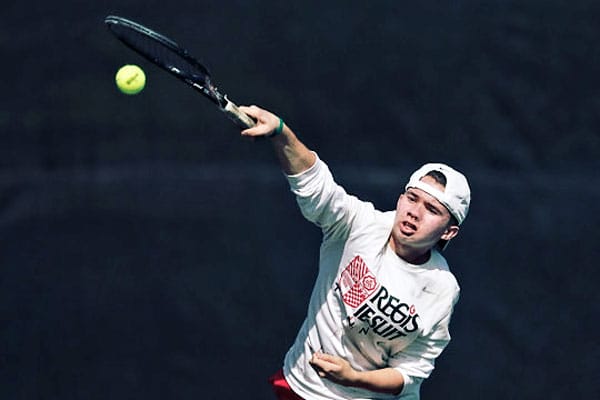 Freshman varsity doubles player Evan Nuss and his partner placed second for Regis Jesuit High School in the number three doubles spot at the 5A state championships last month.
By Amy Shanahan; photos courtesy of Laura Nuss
Congratulations to brothers Erich and Evan Nuss who both took home state titles in the 5A boys tennis state tournament held at the Gates Tennis Center in Denver this past month.
The two brothers who live in Castle Pines represented their school Regis Jesuit High School (RJ) and battled Cherry Creek High School (CCHS) for the top spots. Erich, a junior and varsity player at RJ, played with his partner Steven Bummer and won the state championship at the number one doubles spot, beating CCHS 6-4, 4-6, and 6-3.
Erich has grown up playing tennis and was overjoyed with his win. "Winning the state championship has to be one of the greatest feelings I've ever experienced," remarked Erich. "In the previous two state tournaments, I have failed to make it past the first round, so to actually make it to the final round and win in a third set was very emotional for me. It's a great feeling knowing that all the hard work I put in during the off-season and season paid off in winning the state title."
Erich also enjoys coaching kids tennis during the summers with Ben Wolfe, who is well-known throughout the Castle Pines community. Erich explained, "Teaching kids has been an amazing opportunity. It brings me great joy that I can share my passion for tennis and pass it on to eager kids. It's just as much for Ben and me as it is for the kids we teach."
Younger brother Evan, a freshman and also a varsity player, took second place at state in the number three doubles spot, along with his partner Kosta Garger. Evan greatly values his ability to play on the varsity team alongside his older brother and was thrilled with the results of the championship tournament. "The most fun thing about tennis is that I control my effort and attitude on the court. Doing so well at state was amazing! It felt good to play such great teams and represent Regis Jesuit well," stated Evan.