Buffalo Ridge's "Cinemagic" was truly magic
May 1, 2012
/
/
Comments Off

on Buffalo Ridge's "Cinemagic" was truly magic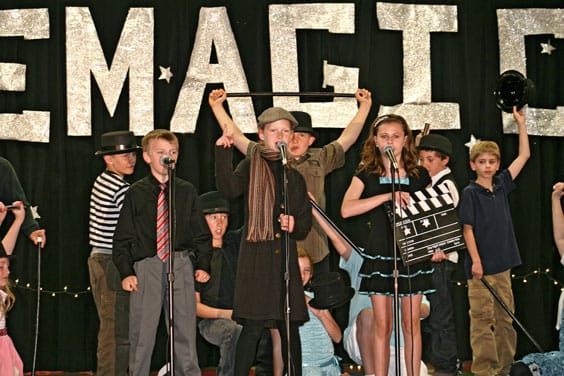 Future Academy Award hopefuls kick off the Buffalo Ridge fifth grade show "Cinemagic"on April 5.
Article by Eli Smith, BRE Ridgeline Staff Reporter
Lights, camera, action! On Thursday, April 5, fifth graders at Buffalo Ridge Elementary School (BRE) performed an incredibly amazing show. The show was called "Cinemagic," and it included songs and dances from blockbuster Hollywood movies.
Cool moves, awesome singing, and the most important thing – excitement – kept students motivated to do their best. All in all, about one hundred fifth graders had a lot of fun being the nominees, performing musical hits in front of the entire school during the day and again that evening for families.
How did this performance start? Well, three great BRE specials teachers, Mrs. Deneault (music), Mrs. Gutierrez (physical education), and Mrs. Macintosh (art) picked Cinemagic from composer Mac Huff.
Some of the songs included hits like "Jai Ho" from the movie "Slumdog Millionaire," and "I'm a Believer" and "Accidentally in Love" from "Shrek." There were twenty-three songs in total performed during the show.
Dancers and acrobats filled the stage with enthusiastic moves. From heart pounding songs to slow heart-warming tunes, the show was a blast.
"I enjoyed making up the dances because they were fun and upbeat," said Mrs. Gutierrez.
Molly S., one of the fifth graders in the show said, "I liked that the whole fifth grade came together in perfect harmony and put on a show that everyone enjoyed." Molly's favorite dance was "Jai Ho" and her favorite song was "9 to 5."
The fifth grade students were proud of the teachers' work, including Mrs. Macintosh for doing most of the designs. Several parents helped decorate the gym in their spare time. It looked spectacular.
"The fifth graders were always excited and ready for anything about this show," said Mrs. Deneault. Many teachers told her that this was the best show that they have seen over all the years!
The fifth graders liked having a show to bring them together as their final year of elementary school comes to an end.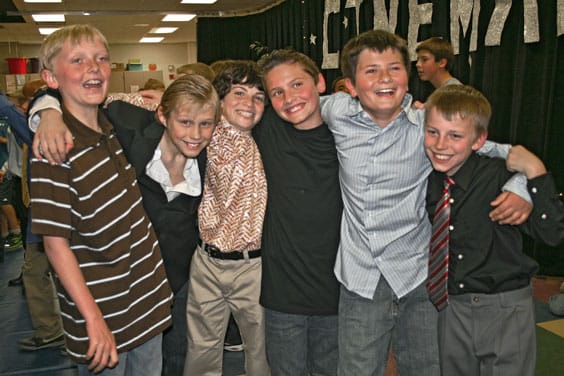 Fifth grade boys having fun after the big show!