Castle Pines Chamber annual banquet; "Business at the Beach"
February 1, 2011
/
/
Comments Off

on Castle Pines Chamber annual banquet; "Business at the Beach"
Article by Kathy Dunker with photos by Tim Gamble
The Castle Pines Chamber of Commerce wrapped up another successful year at its annual banquet at the Inverness Hotel in January. Business owners and community leaders joined together to celebrate the chamber's many accomplishments in 2010 and to recognize some outstanding business owners who give a great deal back to the community.

Business Person of the Year Andrew Dunbar –
Congratulations to Dr. Andrew Dunbar who was selected as Castle Pines business person of the year. Dunbar has been serving the Castle Pines community with his business, Castle Pines Orthodontics, for more than eight years and has been a staunch supporter of the Castle Pines community in a number of ways.
In addition to being selected by 5280 Magazine as one of the best orthodontists in this area for several years running, Lane Roberts of Castle Pines Athletics had this to say about Dunbar in her nomination letter to the chamber: "While his work as a leading orthodontist in the Denver Metro area is second to none, his true passion seems to be about much more than just straight teeth and a beautiful smile. Dr. Dunbar is an avid supporter of local schools, community events, charities, and other businesses. He continues to give above and beyond to help support the Castle Pines community. His contributions have truly made a difference for so many families."
Dunbar's response to the Chamber award was nothing short of pure elation! Dunbar remarked, "I was very surprised and humbled to receive such an honor from the Castle Pines Chamber of Commerce. I am extremely proud to live and work in such a wonderful community that promotes family values. My family and I truly love the Castle Pines area and we plan to retire here in another 30 years!"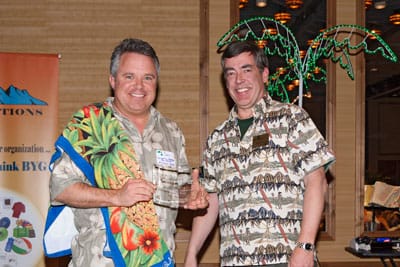 Community Connector of the Year, Don Bobeda

Don Bobeda is the founder of Prudential Preferred Real Estate in Castle Pines, which will be celebrating its ten-year anniversary this month. Bobeda has a long history with the Castle Pines Chamber and the community, being part of the original Business in the Pines organization – the first organization to bring businesses and the community together for the annual Castle Pines Oktoberfest. Bobeda helped to form the Castle Pines Chamber of Commerce and also served in the past as chamber president.
Bobeda is a natural born connector. His real estate business does numerous relocations which, for Bobeda, includes connecting people with businesses and to other people. He takes clients into restaurants and shops, and also connects them with the schools. As a result, part of Bobeda's daily life is that of making connections, whether it's connecting people to other people, businesses to other businesses, or anything else in between.

Ambassador of the Year Wendy Witucki –

Wendy Witucki of Servpro was named Ambassador of 2010 by the Castle Pines Chamber last month. Ambassadors within the chamber are the people who welcome new members and inform them about how to get involved. In addition, ambassadors give quarterly calls to existing members to see what can be done to help them and they also do "meet and greet" duties at chamber events to help people get introduced to others and to feel welcomed.
Each event that an ambassador is involved with gives them a certain number of points. It is that point system that resulted in Witucki's award.
Witucki, one of the newest board members to the Castle Pines Chamber, had this to say about her award: "I am happy and honored to be recognized by the chamber. It serves as a very nice validation to my efforts and time invested."
To find out more about the Castle Pines Chamber, visit www.castlepineschamber.com. To check out a FUN slideshow of the annual banquet, visit www.CastlePinesConnection.com.