Castle Pines Eye Care shares a vision with patient and artist
April 1, 2014
/
/
Comments Off

on Castle Pines Eye Care shares a vision with patient and artist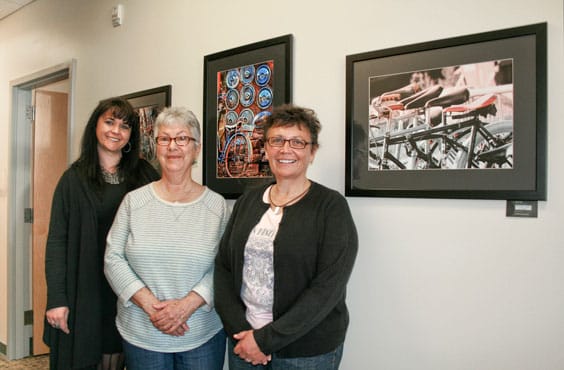 Castle Pines Eye Care Optical Manager Michelle Chalupa (left) stands with
Cathy Rapp (right) and Anne Buel (middle) in front of Rapp's bike series displayed in the hallways at Castle Pines Eye Care.
Article and photos by Elean Gersack
Nearly six months after getting settled into their new space on Max Drive in Castle Pines, Dr. Jason Ortman and the staff at Castle Pines Eye Care were still wondering what do with the blank walls in their hallways. Then, one Friday afternoon, in walked patient Cathy Rapp … and within a matter of days, the walls were full.
Rapp, a retired Ranch View Middle School assistant principal, who also grew up in Douglas County, now spends her time doing what she really loves – taking pictures of simple things in the great outdoors and transforming them into works of art through digital media. Rapp incorporates a variety of digital effects to bring her photos to life. Rapp's friend and textual artist, Anne Buel, assists Rapp with matting, framing and handling exhibit logistics and also adds unique textiles to some of the photos for added dimension.
Michelle Chalupa, optical manager at Castle Pines Eye Care, talked with Rapp on that Friday afternoon while helping her with eyeglasses and together they saw the same vision for those blank walls. "It is a beautiful partnership to spoil your eyes with artwork," said Chalupa.
On display at Castle Pines Eye Care are multiple prints from both her pond series and her bike series. She also showcases several individual pieces including my favorite, "Old Friends," a ski photograph that was enhanced to look more like a poster and printed on a specialty pearlized paper to make the colors really pop.
One of the most special things about Rapp's art is that it is affordable. Most pieces are 18" x 24" and sell for $155 framed and matted. All pieces are customizable, however the prices then vary but are still very reasonable. "We price things in a way so people don't have to choose between food and art," said Rapp.
All of the art hanging in Castle Pines Eye Care is for sale. In fact, in the first week alone, four items sold. So, while waiting for an eye exam or while shopping for a new pair of eyeglasses or sunglasses (the selection is remarkable by the way), meander down the hall and check out the wall art, too. "We really thought this would be a good idea. It definitely is a win-win," said Ortman.
For more information about Rapp's art (her business is called Red Fleece Studios), visit www.redfleecestudios.com. Castle Pines Eye Care is located at 250 Max Drive, Suite 101, in Castle Pines.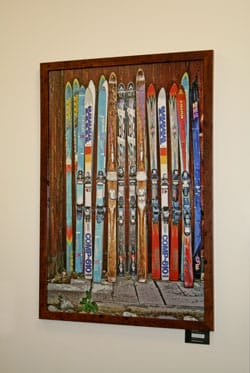 "Old Friends" features a collection of old skis standing outside of Rapp's garage.