Castle Pines orthodontist tops the list all around
April 1, 2014
/
/
Comments Off

on Castle Pines orthodontist tops the list all around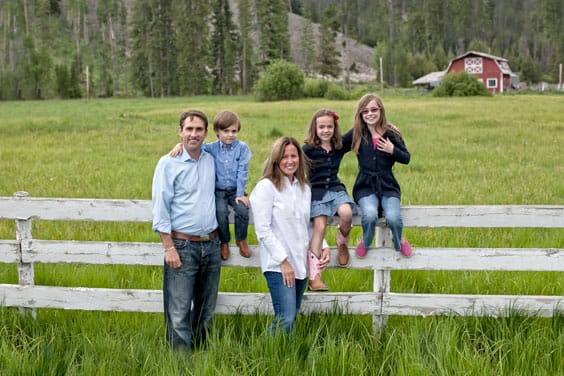 Orthodontist Brandon Linn and wife Lisa are happy to be raising their three children, five-year-old Cooper (left), eight-year-old Harper (middle) and ten-year-old Kennedy, in Castle Pines. Linn has been in practice in Castle Pines since 2004 and was recently honored by 5280 Magazine as one of their "Top Dentists." (Photo courtesy of the Linn Family).
Article and photos by Lisa Crockett; courtesy photo
For the fourth year in a row, Castle Pines orthodontist Brandon Linn, DDS, MS, has made 5280 Magazine's list of "top dentists" in the category of orthodontics. The honor is awarded to dental professionals in Colorado based on recommendations from their fellow dentists, who voted for dental professionals they would refer their own patients to. Linn, who practices in Castle Pines and Highlands Ranch, said he is honored to again receive the award.
"It's nice to be recognized by my peers, to be recognized by other dentists for taking good care of our mutual patients," said Linn.
Linn has been in practice in Castle Pines since 2004 (he also has two practice locations in Highlands Ranch), and he lives here too. A native of suburban Chicago, he and his wife Lisa and their three children are happy to be a part of the community, something Linn takes seriously.
It's tough to think of an area of the community Linn doesn't somehow impact – he's highly involved in area schools, serving on committees, and sponsoring events at all the Castle Pines-area schools. He is currently running a "Teacher of the Year" contest through May 9 for all three offices. The winner and the runner-up will each receive a Barnes & Noble gift card, along with the patients who nominated them. Linn is also an important part of local civic organizations like the Kiwanis Club and the Chamber of Commerce. He lends financial support to local recreational sports teams, and gives his time to mentor students interested in following a career path similar to his.
"He just loves what he does so much and loves his patients," said Linn's wife, Lisa. "He always jokes that if we won the lottery, he wouldn't retire. He loves making a difference in people's lives."
That love of patients and his occupation is reflected in the growth of his practice. This summer, he will move from his current space to a much larger office suite in the Village Square Shopping Center.
"We've outgrown the office we're in now," said Linn, who shares his space with Colorado Kids Pediatric Dentistry. "We think the new space will provide a better experience for all our patients and will accommodate the number of patients we have much better."
Linn's passion for what he does is evident, especially when he talks about innovative treatment techniques and patient satisfaction.
"Orthodontic treatment has come a long way in the last several years," said Linn. "Because the technology has improved, braces are much more comfortable, and treatment times are much shorter."
And Linn recognizes that braces can be a transformative experience for the person wearing them, and not just because they have straighter teeth. "Taking braces off is the best part of my job," said Linn. "That's the reason we put them on. People change internally during the process, just like their teeth. I love being a part of that."
Brandon Linn Orthodontics is located at 7298 Lagae Road in Castle Pines (next to Dazbog), and will move to a larger space at 363 Village Square Lane in the Village Square Shopping Center (near La Dolce Vita restaurant) this summer. For more information about Brandon Linn Orthodontics, visit www.blortho.com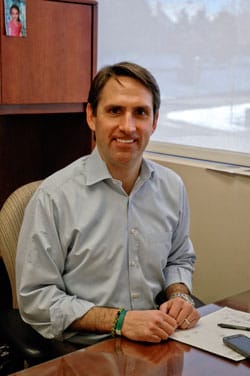 Castle Pines orthodontist Brandon Linn, DDS, MS.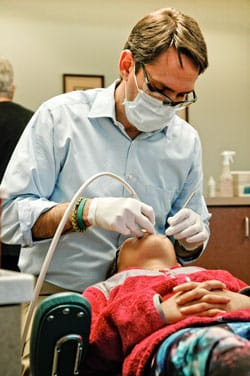 Dr. Linn doing his favorite thing – taking braces off of a patient. "That's why we put them on – so we can take them off," said Linn.