Castle Pines resident named new golf pro at nearby Club
February 1, 2015
/
/
Comments Off

on Castle Pines resident named new golf pro at nearby Club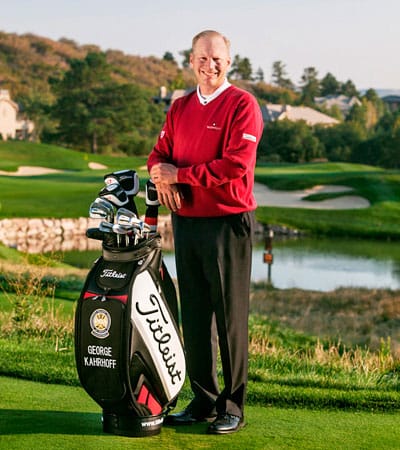 Castle Pines resident George Kahrhoff is the new Director of Golf Operations for The Club at Ravenna.

By Lisa Crockett; photo courtesy of Amy Hill
Castle Pines resident George Kahrhoff has taken the reins as the new Director of Golf Operations at The Club at Ravenna, a gated golf course community in Littleton. Kahrhoff brings decades of experience to the task, including his most recent posting as head golf pro and former general manager of The Country Club at Castle Pines. Kahrhoff said he is excited at the prospect of making plans and establishing traditions at the links-style course located just west of Roxborough Park.
Kahrhoff took his new post at the beginning of the year. He recently made changes to the first and fourteenth hole to increase their playability, and is an integral part of plans for the new clubhouse. A lifelong golfer who grew up in Grand Island, Nebraska, and came to Colorado in 1988, Kahrhoff said his new position is something of a dream come true, affording him the ability to influence all aspects of the golfing experience for players at Ravenna.
"We have an exciting new membership program that has been recrafted and is available now," said Kahrhoff. "We also have development improvements currently underway, which will be formerly announced in the near future."
Kahrhoff also plans to host events at the club, including this summer's Colorado Golf Association Senior Match Play Championship, which will be held in June. The course recently hosted a group of students from the Colorado School of Mines and Kahrhoff is eager to be involved in golf for men, women, youth and seniors. "We're looking forward to hosting events here to let people experience the beauty of the club," said Kahrhoff. "We want Ravenna to be on the 'must-play' list of golfers in Colorado."
That beauty is accompanied by a healthy challenge. Ravenna is home to a 7,100-yard, par-71 course designed by Jay Morrish and boasts one of the highest slope ratings in Colorado. Those slopes afford players breathtaking views of both the Denver skyline and neighboring Waterton Canyon.
"It's a tough course," said Kahrhoff. "It's reminiscent of courses in Scotland and England. When you combine that with mountain views and the native grasses and plants that surround the greens and the elevation changes, it's really something special."