Castle Pines Swimmer makes USA Paralympics team
July 1, 2012
/
/
Comments Off

on Castle Pines Swimmer makes USA Paralympics team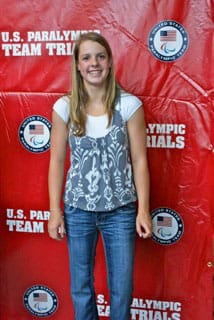 Fifteen-year-old Brickelle Bro will travel to London in August to swim on the U.S. Paralympic swim team.
By Lisa Crockett, photos courtesy of the Bro Family
The countdown is on for 15-year-old Brickelle Bro, a Castle Pines resident and champion swimmer. Last month at the aralympic Swim Trials in Bizmark, South Dakota, Bro swam the 400 freestyle in breathtaking 5:27:25, which earned her a fifth-in-the-world ranking and a spot on Team USA. Bro joins 20 other female swimmers with varying physical challenges who represent elite talent and ability. Now, she's just weeks away from a life-changing experience.
Given the small number of spaces available for swimmers and Bro's age, she said she was mentally prepared to not attend the games and was simply speechless when her name was announced as part of the roster.
"I've been dreaming about this since I was eight or nine years old," said Bro. "It really is a dream come true."
At birth, Bro was born with legs that end just below her knee joints (her right leg is a bit longer than her left.) In Paralympic events, athletes are "classified" according to their degree of disability. Bro said she's gained strength by watching other competitors.
"It's great to watch athletes doing this despite the challenges we have," said Bro. "These events are hard, and it's exciting to see people succeed and get the chance to go to London."
As of press time, the events Bro will swim at the Paralympics have yet to be determined, but in addition to several freestyle events, she also swims the 200-meter individual medley and the 100-meter backstroke.
The Paralympics are held following the Olympics, from August 29 until September 9, which means a lot of time out of school and a lot of time away from family for the Rock Canyon sophomore. But it also means living for more than a month in London and rubbing shoulders with world-class athletes.
"Of course I'm excited for the swimming," said Bro. "But I'm also excited for the opportunity to travel, stay in the Olympic Village and meet new friends."

Brickelle Bro, a sophomore at Rock Canyon High School, swims at the Paralympic Trials in Bizmark, South Dakota. Her 400-meter freestyle earned her spot on Team USA and she will swim in London this summer.