Castle Pines Town Center gains City Council approval
April 1, 2012
/
/
Comments Off

on Castle Pines Town Center gains City Council approval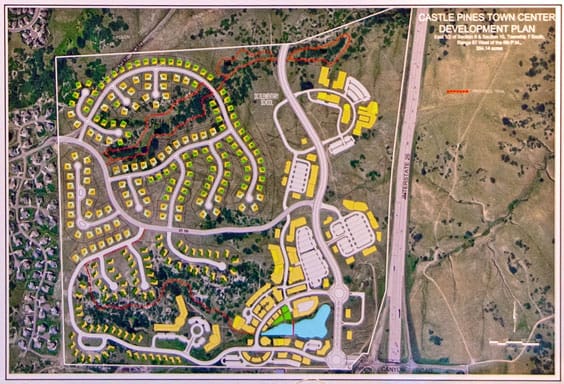 Article by Lisa Crockett with sketch plan provided by A & A Investments, LLC
At a public hearing held in late March the Castle Pines City Council approved an annexation petition from A&A Investments, LLC to annex property known as the Castle Pines Town Center into the City. City Council also approved the initial zoning of the property to Planned Development, a development agreement, and a combined service plan for three Metro Districts in the Castle Pines Town Center.
"We're very pleased with the outcome of the hearing," said Jake Schroeder, Vice President and General Counsel for VCDS, Inc., an affiliate of A&A Investments.
The 354-acre parcel is bound by "Lagae Ranch Filing 1″(home to Elk Ridge Park and American Academy Charter School) on the north, agricultural land to the south, Interstate 25 on the east and Castle Pines Village on the west.
In its present form, the Castle Pines Town Center Planned Development would allow up to 320 single-family detached residences, a 200-unit senior living or multi-family facility and a maximum of 700,000 square feet of commercial, office, retail and mixed use space at full project build out. There are also designated parcels for an elementary school, a park (including a trail system) and open space.
A realignment of Lagae Road and a new east-west road are also part of the proposal.
The proposed plan includes a "European style" pedestrian zone, which would be centered around a water feature and would include restaurants and retail areas.
"We think this will provide the community with gathering places and instill a sense of community that seems to be somewhat lacking currently," said Schroeder
No firm timeline for construction has been established, but two builders – David Weekley Homes and Taylor Morrison homes – are currently under contract for the first phase of residential development.
Schroeder said A&A Investments is ready to begin the platting process for areas one through four of the development, areas which contain single-family homes. He said that the process could begin in as little as 30 days.