October 1, 2015
/
/
Comments Off

on Castle Rock Ghost Tour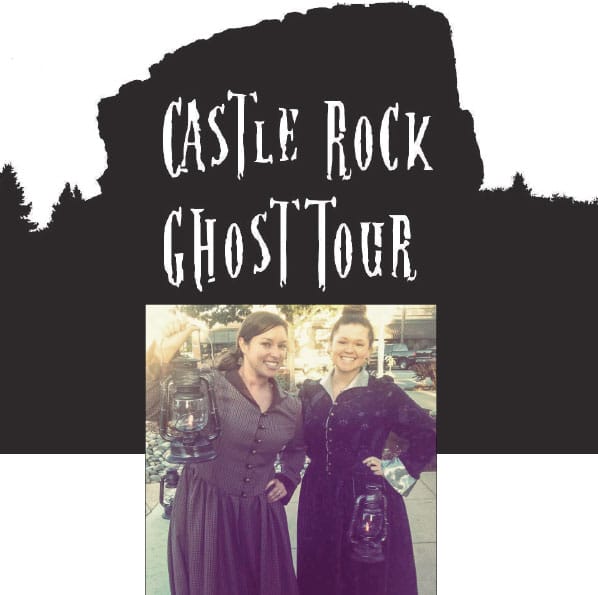 Sisters Amber Graham (left) and Magen Culver (right) are in their fourth
year of spooking locals on their annual Castle Rock Ghost Tour.
By Kathy Fallert; Photo courtesy of Magen Culver and Amber Graham
Sisters and Castle Rock residents Magen Culver and Amber Graham spent a lot of time traveling from their home town in Oklahoma. One thing that always fascinated them as kids was scary ghost stories. During their travels they observed many towns that had their own ghost tours.
After relocating to Castle Rock in 1998 due to their dad's job, Culver and Graham noticed that Castle Rock was lacking in a ghost tour. So, four years ago Culver and Graham started talking to people who live in and own businesses in Castle Rock and collected numerous ghost encounter stories. They now have a collection of roughly 15 residences and businesses that are part of their annual Castle Rock Ghost Tours now in its fourth year.
Culver and Graham themselves have had some ghostly encounters while running their tours. Graham recollected, "We were passing The Barn in Castle Rock which at the time had a group of antique bikes outside against the building. One woman and her young son were at the back of the tour group when suddenly all of the bike bells starting ringing at the same time. The woman thought it was a hoax by others in the group until everyone realized that the bikes had no bells on them! It was really creepy!"
Castle Rock Ghost Tours take place Friday through Sunday starting at 7 p.m. and last between 60 to 90 minutes each. The tours run from the last weekend in September through the first weekend of November. The tour guides dress in theme for old town Castle Rock and carry lanterns. The cost is $15 for adults and $10 for kids age 12 and younger. Culver remarked, "This is truly something we love doing so it's our privilege taking you on this spooky adventure!"
For more information about Castle Rock Ghost Tours, visit their Facebook page at www.facebook.com/CastleRockGhostTour or their website at www.castlerockghosttour.webs.com.