Castle Rock's 75th Star Lighting
December 1, 2010
/
/
Comments Off

on Castle Rock's 75th Star Lighting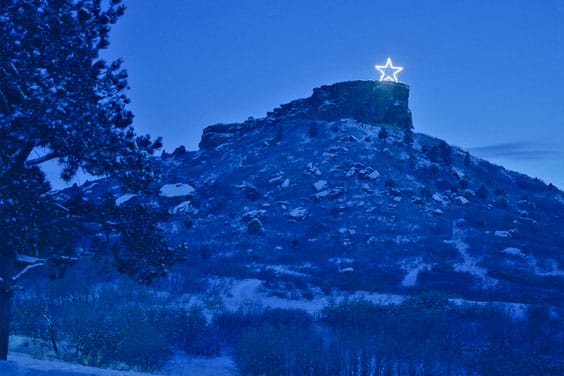 By Elizabeth Wood West
Members of Boy Scout Troop 316 of Castle Pines donned their uniforms and headlamps to lend a hand with the Castle Rock Chamber of Commerce's 75th annual star lighting ceremony on November 20.
Susan Thayer, member of the chamber's board of directors and 2010 star lighting committee, came up with the idea to have the scouts light their headlamps sequentially during the star lighting countdown, forming a sort of "human light fuse." Thayer rehearsed with the Scouts and troop leaders (pictured below) , and assigned each one a countdown number.
At dusk, they positioned themselves on the steep roadway at the base of Castle Rock, facing the large crowd that had gathered in downtown Castle Rock for the event. At 5:30 p.m., Castle Rock's dark night sky was lit by Troop 316's headlamps, one by one, and together with a colorful flash from fireworks, the star on Castle Rock was lit for the holiday season.