Childhood hobby becomes passion; business
November 1, 2011
/
/
Comments Off

on Childhood hobby becomes passion; business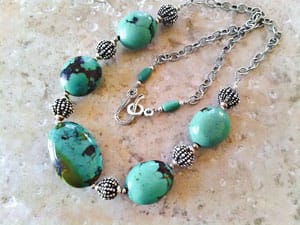 by Elizabeth Wood West
"Beading is my creative outlet. I am a land use planner by day – beader by night," joked Castle Pines resident and Beadacious Beads owner Carol Kuhn. Kuhn's hobby-turned business is making custom beaded jewelry, specializing in sterling silver and gold-filled metals mixed with semi-precious stones, freshwater pearls, and Swarovski crystals.
"I make many different types of beaded jewelry. I have worked with wire wrapping, bead weaving, precious metal clay, and basic stringing – but I really enjoy working with wire and I love anything that sparkles," Kuhn said.
Kuhn has been creative all her life. As a child, Kuhn was always making things with yarn and pompom animals, as well as crocheting, knitting, sewing, and macramé. "I started making beaded jewelry when I was young – around five years of age," said Kuhn, " but the creations were something only a mother or grandmother could love – usually with plastic beads or noodles strung on yarn."
In fifth grade, Kuhn won a scholarship to an art program that taught her about pastels, pencil, clay, pottery, oils, and water colors. She studied art in college, and while in graduate school at the University of Denver, began beading again.
Kuhn put beading on hold after graduating until 2002, when her grandfather passed away. Kuhn explained, "While sorting through his possessions, we found my grandmother's jewelry box [she had passed away when I was six years old]. In her jewelry box was a birthday gift I had made her – a necklace made of plastic beads and yarn. She had kept it and so had my grandfather. After seeing the little necklace and the note, someone asked why I didn't make my jewelry anymore. At that moment, something clicked. Later that year, I started Beadacious Beads," said Kuhn.
Although busy as a senior planner with Arapahoe County Public Works and Development, Kuhn has found the time to showcase her beaded jewelry at art shows such as the Highlands Ranch Arts Festival and Wine Tasting and the Littleton Friends of the Museum Arts and Crafts Fair, as well as the South Suburban Arts and Crafts Show. Kuhn has also sold her pieces at home jewelry shows and custom weddings, and has donated her pieces for several charity events.
Beadacious Beads earrings range from $15 to $20, with higher-end gemstone earrings about $45; most of the necklaces range from $25 to $38, up to $100 depending on the materials and the amount of time involved.
"I love making jewelry with a specific individual in mind. It's so rewarding to make something for someone that will bring a smile to their face or make them feel pretty. Hence the business name 'Beadacious – A Little Sparkle to Brighten Your Day'," said Kuhn. For more information or to purchase jewelry, please visit www.etsy.com/shop/Beadaciousbeads.