Farewell Rodneys: Castle Pines Village welcomes new grill, cuisine
November 1, 2011
/
/
Comments Off

on Farewell Rodneys: Castle Pines Village welcomes new grill, cuisine

Castle Pines Chamber of Commerce Ribbon Cutting Ceremony
By Amy Shanahan with photo by Tim Gamble
Come and experience the fresh cuisine and specialty wine list offered at the new Grill at the Pines, located in the Village Shops at Castle Pines. This wonderful new restaurant opened in late summer and is sure to please local residents with the taste and ambience of a fine downtown Denver restaurant.
Restaurant partner and executive chef Kyle Wright has an extensive culinary background. He studied in Tuscany and the Art Institute of Colorado, and has served as executive chef at other establishments in the Denver area. This is his first ownership in a restaurant and he is thrilled to be in the neighborhood.
Restaurant manager Jackie Garcia also comes from a hospitality and convention services background, and calls the Grill at the Pines a "foodie" restaurant, for those who understand and appreciate excellent cuisine. All of the produce is locally grown or sourced, and they use only fresh ingredients.
The restaurant is open for dinner, seven evenings a week, and serves lunch Tuesday through Saturday. Wright has put together an extensive menu with specialties like Short Ribs braised with molasses and served over house made cornbread and bean ragout, and Eggplant Manicotti, a vegetarian dish with julienne styled vegetables with parmesan wrapped in eggplant and baked in their house made sweet tomato sauce.
Appetizers include P.E.I. Mussels simmered in a Coors Banquet garlic cream sauce with grilled bread, as well as favorites like homemade Artichoke Dip. Wright loves making desserts and he and his staff make everything on site, including the signature Carrot Cake Napoleon with homemade rum-raisin sauce.
In addition to lunch and dinner, the Grill offers brunch on Sundays from 9 a.m. to 2 p.m. and features unique dishes like Chocolate Pancakes with homemade sweet coffee butter. Garcia remarked, "We live in the neighborhood, and want patrons to feel like they don't have to make a production by driving to Denver to get high quality chef-driven cuisine."
Not to be missed is their very eclectic wine list, which pairs creatively with the menu choices. Wright and Garcia hope to introduce and educate customers to new wines that they will then be inclined to add to their own repertoires.
Local musicians are featured Saturday evenings from 6 p.m. to 9 p.m.
The Grill at the Pines is located at 872 W. Happy Canyon Road in Castle Rock, next to Tony's Market. For reservations, call 720-733-6565.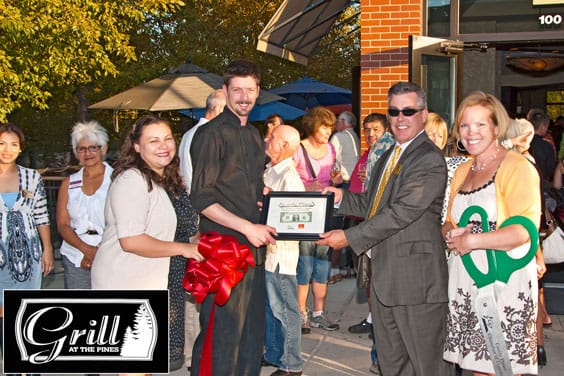 Castle Pines Chamber of Commerce Ribbon Cutting and Ceremonial "First Dollar" presentation. Left to Right – Restaurant Manager Jackie Garcia, Restaurant Partner and Executive Chef Kyle Wright, City of Castle Pines Mayor Jeff Huff, and Castle Pines Chamber Vice-president Carla Kenny.