Chris Givin Drafted to the San Diego Padres
July 1, 2019
/
/
Comments Off

on Chris Givin Drafted to the San Diego Padres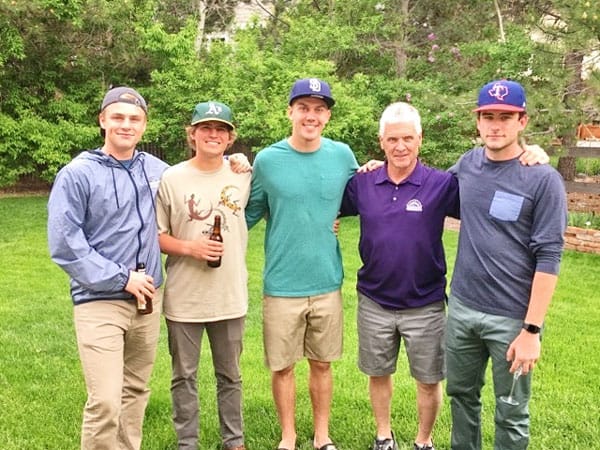 The day Chris Givin (center) was drafted, his former coach and teammates gathered in Castle Pines to celebrate. Pictured from left to right are Tucker Middleham, Nick Lamb, Chris Givin, Coach Roy Middleton and Brian Harrity.

By Carin R. Kirkegaard, photos courtesy of the Givin family
Chris Givin graduated from Xavier University with a degree in marketing on May 18. On June 5, he received the best graduation gift when he was selected to the 2019 Major League Baseball First-Year Players draft. The San Diego Padres drafted Givin in the 19th round to play shortstop.
Givin's love for the game started as a kid growing up in Castle Pines. He played on many little league teams throughout his youth. When he wasn't playing "officially," he could be found either in the backyard playing baseball with his brother and their friends or in one of the cul-de-sacs in the neighborhood.
Playing professional sports is a dream had by many but realized by few. When asked if Givin ever had this dream for himself, he said that he always loved the game and wanted to play for as long and as far he could go.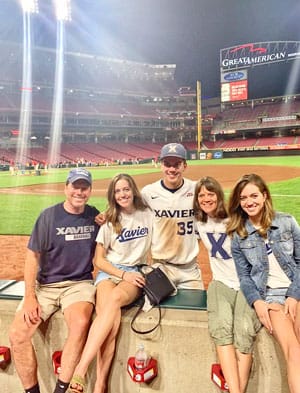 Chris Givin celebrated a win with his family. Pictured left to right are Brian, Lindsey, Chris, Jean and Nicole Givin. The family minus his brother, Matt, made it to the last game of the season. Xavier University played rival University of Cincinnati at the Cincinnati Reds stadium.

A 2015 graduate from Rock Canyon High School, Givin played varsity all four years of his high school career. He primarily played shortstop, but also spent time on the mound pitching. Winning the Colorado 5A State Championship and signing to play shortstop at Xavier University, ended his high school career on a high note.
In his junior year at Xavier, Givin started to think this dream could become a reality. His coaches started talking with him about his prospects of being drafted and discussing the areas where he could improve.
"When people that I looked up to started to believe in me, that's when I started to think this could happen," said Givin.
His future was indeed bright on the Xavier ballfield. Givin played in 203 games and started in 201. His senior year, for the third time, he was selected preseason All-Big East. He ended his career at Xavier with 249 hits, which placed him third for career hits in the program. In 2016, as a freshman, Givin was part of the team that went to the NCAA Tournament and advanced to the regional final for the first time in Xavier's history. When Chris was a sophomore, the team returned to the NCAA Regionals.
As Givin's mom, Jean, commented, "A great storybook ending to a great college career."