City staff receives annexation petition for Lagae South
September 1, 2009
/
/
Comments Off

on City staff receives annexation petition for Lagae South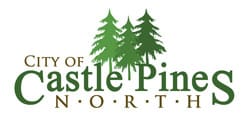 by Sara Edwards
The City of Castle Pines North staff received an annexation petition on Wednesday, Sept. 23, from A and A investments for annexation of land known as Lagae South.
City staff informed City Council of receipt of the petition at last night's council meeting.
The official petition will be presented to City Council at an upcoming, regularly scheduled public meeting to determine if it adequately complies with statutory requirements, which is the first of several steps needed to complete the annexation process.
"The petition request to have Lagae South annexed into Castle Pines North speaks well of the strides we have made as a young city and our strong financial stability," says Mayor Maureen Shul. "We look forward to working together on this process."
Lagae South – currently in unincorporated Douglas County – is an area of approximately 354 acres, located west of Interstate 25, north of Happy Canyon Road and east of Castle Pines Village.
Incorporated Feb. 12, 2008, Castle Pines North is a city of 10,000, located 20 miles south of Denver in Douglas County. For more information on Castle Pines North and to sign up for e-mail alerts about city news, visit www.cpngov.com.