Climbing mountains and building strength
March 1, 2019
/
/
Comments Off

on Climbing mountains and building strength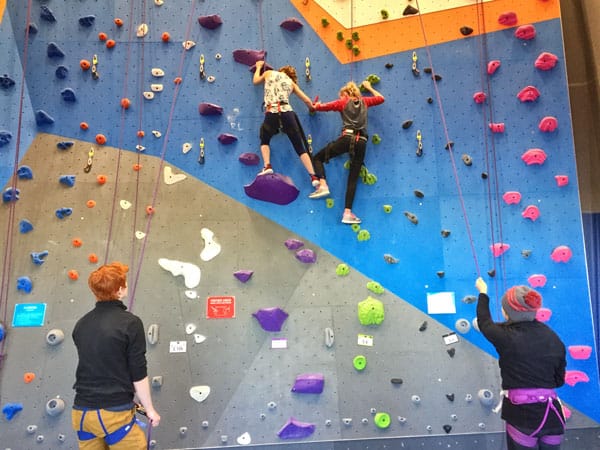 DCS Montessori ACE students tested their strengths with fellow students supporting every move.


By Julie Matuszewski; photos courtesy DCS Montessori
If you have ever spent a day at Earth Treks Climbing Center, you will agree that a climbing gym is the perfect place to build a team and push yourself beyond your normal limits. Every week, DCS Montessori middle school students participate in a class that allows them the opportunity to act, create and explore (ACE). Fourteen ACE students strengthened their ties and bonded, while testing their strength and abilities during a half-day field trip to Earth Treks in Englewood. Earth Treks' state-of-the-art climbing gym was one way to challenge these students.
These seventh- and eighth-grade students showed no fear as they mastered independent climbing on the introduction walls. First-time climbers, the students progressed to more difficult climbs with technical and vertical challenges categorized as 5.10 and higher. After setting personal goals, the trekkers tested their abilities with three-legged climbing, blindfolded climbing and speed climbing. While some of the students set goals to climb, more technical other students sought more difficult techniques.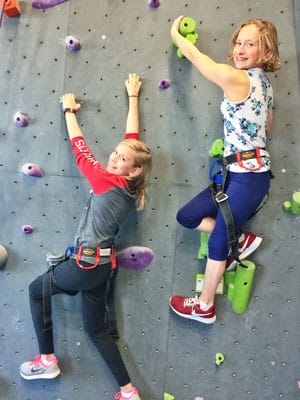 Nothing could stop DCS Montessori students Sarah Loftis and Kate Fehr (CP) as they made their way to the top of the climbing wall.
Earth Treks, along with middle school director Miguel Gonzalez instructed the ACE class. "Climbing was an excellent way for the students to reach beyond their comfort; they realized their strengths and worked on their weaknesses as individuals, while participating as teammates," stated Gonzales. "Earth Treks was the perfect place to allow student climbers to be challenged in a safe and supportive environment."
At the end of the day, these brave students were all up to the challenge to lead and support each other personally and in a team environment. These amazing students displayed compassion, unity, achievement, respect and success. Way to go COUGARS!