Club donates generously to staff members
September 1, 2015
/
/
Comments Off

on Club donates generously to staff members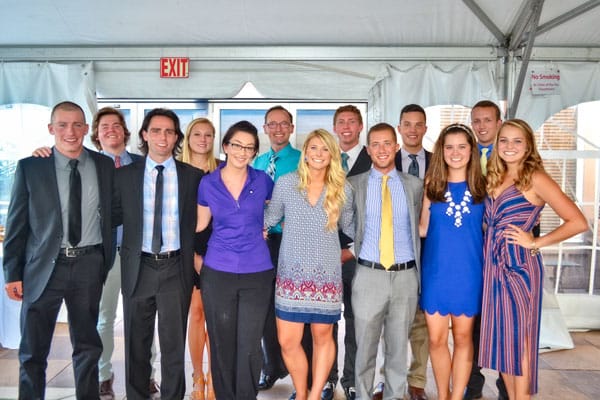 Fifteen staff members at The Country Club at Castle Pines received
scholarship money on behalf of the club members. Left to right: Ethan
Baughman, Reed Wagstaff, Jordan Kauffmann, Mackenzie Maslowski, Kayla
Trujillo, Mario Mangone, Morgan Adams, Ryan Hough, Blake Mounts, Justin
"JT' Kahn, Alexis Svenson, Kyle Parmley, and Lauren Simpson. Not
pictured: Sebastian Wilson and John Wood.
By Amy Shanahan; photo courtesy of Beverly Coggins
Since 2007, members of The Country Club at Castle Pines (CCCP) have shown their thanks and appreciation to their staff in the form of generous scholarship money. The money is all donated by club members who value the hard work of the club employees.
On the evening of August 5, members of the employee scholarship foundation were pleased to award $50,000 to a total of fifteen deserving staff members. The scholarship foundation committee received 29 applications and based the awards upon several factors including academics, financial need, merit, extracurricular activities, and supervisor recommendations.
Cindy Lantz served as the president of the employee scholarship foundation and remarked, "It was a very difficult decision the committee made as all of the applicants are bright, enthusiastic, well-liked employees that are valued by our members. The Country Club at Castle Pines has an outstanding membership that is not only generous but concerned with the well being and tenure of the staff."
Castle Pines resident Mackenzie Maslowski was one of the fortunate scholarship recipients. Maslowski began working at the club in 2013 as a hostess and this summer she drove the beverage cart and worked as a half way house server. "When I received the scholarship I felt as though my hard work at the country club had paid off," remarked Maslowski. "I was excited not only for myself, but my family as well. The contribution will be a great help towards my education over the next four years." Maslowski will be a freshman at C.U. this fall and plans to study integrative physiology with hopes of going on to medical school.
The employee scholarship foundation has grown tremendously since its inception and is indicative of the generous nature of the club members. For more information about the CCCP, visit www.ccatcastlepines.com.