Coming soon: Talented Teens of Castle Pines
December 1, 2017
/
/
Comments Off

on Coming soon: Talented Teens of Castle Pines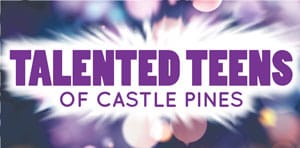 By Liz Rector
Castle Pines is a sprawling community largely made up of families, and within this 80108 ZIP code, The Castle Pines Connection has met and featured many talented young individuals. starting in the January 2018 issue, The Connection will be featuring a spotlight each month on a "talented teen" from our area.
You may be wondering what the criteria is for a "talented teen." For the newspaper's intents and purposes, a talented teen is an individual between the ages of 13 and 18 who is thriving in a particular area, whether it is academic, athletic or extracurricular. It may also be someone who is giving back to the community in some way, whether that means going above and beyond in school or volunteering to help others in need.
If you know a talented teen and would like to nominate them to be in the spotlight, send the information to lrector@castlepinesconnection.com.
Please keep in mind that the student nominated and the student's parents both have to consent to the individual being featured in the newspaper. Photographs are welcome, and participants are encouraged to provide as much information as possible about the teen's achievements. If selected, the student will be interviewed for quotes to include in the article and their photo may be taken as well.
Due to the fact that there are so many talented teens in Castle Pines, do not grow discouraged if your teen is not featured right away. Keep an eye on the paper and encourage your teens to get out there and do fantastic things!