Commemorating the year in a special way
January 1, 2014
/
/
Comments Off

on Commemorating the year in a special way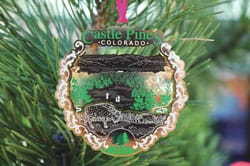 Information provided by the CPACF
The Castle Pines Arts and Cultural Foundation (CPACF) offers thanks to all who supported the inaugural Castle Pines commemorative ornament.

"We are grateful to Cherokee Ranch & Castle, the Castle Pines Chamber of Commerce, the Castle Pines Library, Daz Bog, King Soopers, Starbucks, and above all, to our stellar sellers, Walgreens," stated Vicky Kellen. "The entire Walgreens staff became involved in our campaign, always enthusiastically serving the public and encouraging patrons to proudly display our hometown momento. It is a credit to our community to have a major retailer with such a basis of caring," she stated.
Kellen also extended thanks to those who purchased the ornament. "As you display it in your homes, whether during the holidays or year-round, you may feel pride in being a member of the Castle Pines community."
According to Kellen, the profits from the ornament sale will be showcased in future community cultural programs geared towards
all ages.
"Our heartfelt thanks go to The City of Castle Pines, the Castle Pines North Master Association and our great newspaper, The Castle Pines Connection! With your unwavering support, the community received news of our Castle Pines commemorative ornament, a remembrance of the very special lifestyle that we all enjoy."