Communication brews between DCSO and residents at Coffee with a Cop
November 1, 2017
/
/
Comments Off

on Communication brews between DCSO and residents at Coffee with a Cop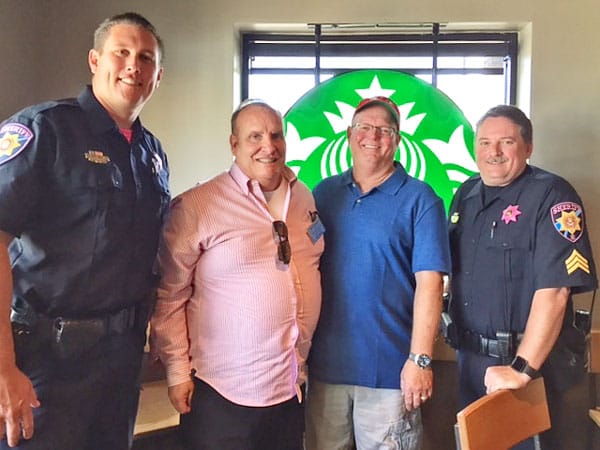 Deputy Jason Blanchard (left) and Sergeant Jeff Miller (right) with Castle Pines residents during the October 4 Coffee with a Cop. The event provided the opportunity for the DCSO and residents to get together outside of emergency situations

By Lynne Marsala Basche; photos courtesy of Lauren Lekander
The Douglas County Sheriff's Office (DCSO) has been working diligently to increase its presence in the Castle Pines community. Whether visiting neighborhoods for National Night Out, arranging informational sessions or publicizing safety reminders, the DCSO is connecting and educating the community on issues that are relevant to them. Recently, DCSO officers participated in another forum to interact with residents, Coffee with a Cop.
Coffee with a Cop began in California six years ago as a way for police departments to communicate with local citizens in a relaxed, casual environment. Subsequently, October 4 was designated as National Coffee with a Cop Day, and law enforcement officials throughout the country celebrated the program by speaking with concerned citizens over a cup of joe.
The DCSO hosted two Coffee with a Cop sessions on October 4 at the Castle Pines Parkway Starbucks. Both events were well attended, and residents came prepared to discuss topics such as neighborhood speeding, crime trends, development and traffic concerns. Those who did not have questions were eager to stop by and say, "Thank you for all you do," and some attendees even offered hugs to officers on their way out.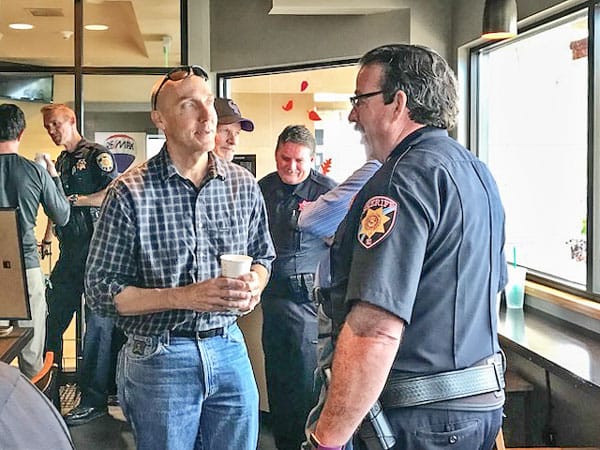 Sheriff Tony Spurlock spoke with residents about local crime trends, neighborhood speeding and traffic concerns. Officers wore pink badges and patches in October in honor of breast cancer awareness month. Deputies made donations within the office and purchased pink badges and patches to wear. DCSO raised more than $2,000, which will go to a local cancer patient(s).
Community-oriented police programs like Coffee with a Cop provide opportunities for both law enforcement officials and residents to get together outside of emergency situations.
"We participate in community events like this because we want to build trusting relationships within our community," said Public Information Officer Lauren Lekander. "We want citizens to feel comfortable coming to us. Making ourselves available to the community in an environment like this helps us build those relationships."
Two more Coffee with a Cop dates are scheduled for residents who were not able to stop by on October 4 or for those who have follow-up questions. DCSO officers will be at the Castle Pines Parkway Starbucks on November 8 and December 6 from 9 a.m. until 11 a.m. and 3 p.m. until 5 p.m.
"We had good conversations with residents," said Lekander. "Castle Pines residents genuinely appreciate law enforcement."