Construction moves forward on new American Academy campus
May 1, 2013
/
/
Comments Off

on Construction moves forward on new American Academy campus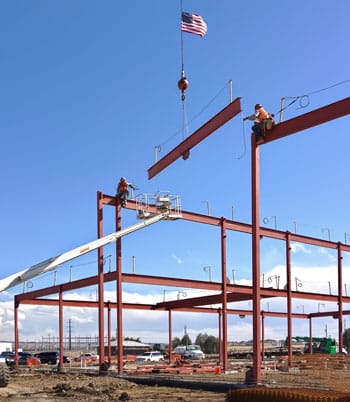 American Academy Charter School, founded in Castle Pines in 2009, is underway with construction of its second campus. The new building is located on Motsenbocker Road and Mainstreet in Parker.
Information provided by American Academy
Last month, the board of directors and the American Academy (AA) administration celebrated the "topping off" of the steel structure on its new Parker campus building. Haselden Construction invited the group to visit the construction site to sign the final steel beam before the construction team hoisted it into place across the roof of what will be the school's gymnasium.
The construction team lifted the 3,000 pound beam with a crane and set it down on the top of the steel frame to be bolted in place while the group looked on.
"It was a windy day, and I have to admit, I was holding my breath as they hauled that beam up and over. The men who sat at the top and bolted the beam in place are certainly brave souls! But it was a great pleasure to witness this symbolic piece of the process going into place for our new building and I loved seeing it happen in person," said Erin Kane, executive director of schools for both the Castle Pines campus and the new Parker campus.
The Parker campus is scheduled to open for school in late September. To date, construction is right on target, despite the recent spring snows. The new building will eventually be home to kindergarten through eighth grade, as well as AA's new pre-kindergarten program, KindiePrep.
Although the k-8 program is fully-enrolled for the fall of 2013, there are limited spots still available in KindiePrep. Kane added, "We certainly encourage anyone interested in attending either campus to join the waitlist for the 2014-2015 enrollment lotteries."