CPN Resident Launches "Castle Pines Athletics" Practice and Play at Home
October 1, 2008
/
/
Comments Off

on CPN Resident Launches "Castle Pines Athletics" Practice and Play at Home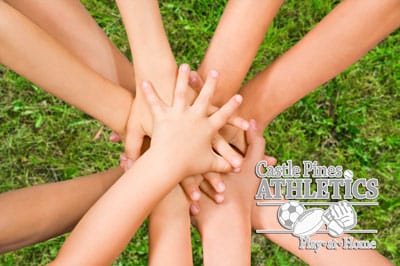 by Terri Wiebold
Imagine saving gas, time and money. Imagine not having to drive children to sports programs all over Douglas County. Imagine never paying "non-resident" fees to play soccer, t-ball or other sports. Imagine having sports practice and games at local parks right here in Castle Pines North (CPN.) If this sounds like what you are looking for in a sports program, then look no further!
Castle Pines Athletics is a new recreational youth sports program designed for CPN children age four to twelve. The program offers non-competitive sports right here in the CPN community.
Set to launch in the spring of 2009, Castle Pines Athletics will offer soccer, t-ball, baseball, softball, cheerleading and volleyball to local children. Non-residents from surrounding communities (Castle Pines Village, Surrey Ridge, etc.) are also welcome to play for an additional fee.
Lane Roberts, nine year CPN resident, came up with the idea to launch this youth program after driving her children to Castle Rock to play t-ball, and driving to a field off University Boulevard in Centennial to play soccer with South Suburban Parks and Recreation.
"We were spending all of our time in the car driving to sports events all over Douglas County," said Roberts. "We have three beautiful parks and fields right here in this community that could be used for this program."
Roberts presented her idea for Castle Pines Athletics to the Castle Pines North Metro District board of directors in September. The board unanimously approved the use of its fields for practice and play in support of this program, pending additional approval from two HOAs adjacent to Coyote Ridge Park. The CPN Metro District owns and maintains all parks and fields in the city.
"We are so thankful to the Metro District board for allowing the children of CPN to use our fields for games," said Roberts. "Without their support, the program would not be possible."
CPN residents already pay property taxes for the use and maintenance of these fields, but until now they have not been able to play games on them.
"Our fields have always been for practice only," Roberts said. "This program will allow children to play at home on their own fields. Children can play other teams from Castle Pines North and walk to their practice and to their game without ever leaving the community."
Castle Pines Athletics will host a spring sports registration on November 15 at Daz Bog Coffee in CPN from 9 a.m. to 1 p.m. Information will be available at OctoberFest and Rock Slide and can also be found at www.castlepinesathletics.com or e-mail questions to Contact by email .