CPN Youth Achieves Black Belt Status
August 1, 2007
/
/
Comments Off

on CPN Youth Achieves Black Belt Status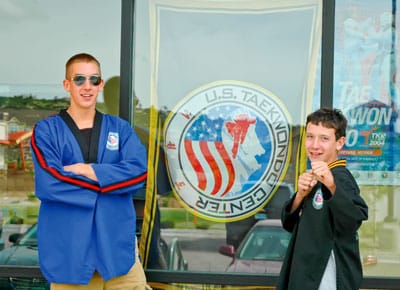 CPN resident Jeremy Gamble (right) earned his black belt in Tae Kwon Do with the help of friend Taylor Moudy.

by Lisa Crockett
Taking a test is not something that most kids would think of as fun, but for Castle Pines North (CPN) resident Jeremy Gamble, it is just part of a process he enjoys. The test, however, was not one he took during his regular school hours at Parker's Core Knowledge Charter School. Instead, 12-year-old Jeremy has joined the elite ranks of those who have earned a black belt in Tae Kwon Do.
Getting a black belt requires extensive physical training and a command of Korean terms used in Tae Kwon Do. Then, there is a kind of final examination that involves a demonstration of skills as well as a five-mile run. "The run was really hard and I wasn't sure I would make it," said Gamble.
Enter 17-year-old Taylor Moudy. A senior at Douglas County High, Moudy readily admits that he doesn't hang out with too many 12-year-olds.
"But Jeremy's cool and we both wanted to get our black belts. I just kept encouraging him to keep going," said Moudy. "I just kept saying 'C'mon, you can keep up.' I knew he could do it."
Both boys crossed the finish line and received their belts in a celebration held in June.
"It's been great to have Taylor as a friend," said Gamble. "He's helped me a lot and it's nice to have someone I can go to with questions."
Moudy will graduate from high school next spring and says he doubts he will have time to finish another degree of his black belt. Gamble, on the other hand, has his sights set on at least a third-degree black belt before he heads off to college. With this accomplishment "under his belt" it seems likely that he will soon be following Moudy's example by serving as a mentor to others.
Share the good news about an accomplishment of a CPN kid! Send photos and information to Contact by email.