Daniels Park Road Closures Extended Through March 2009
October 1, 2008
/
/
Comments Off

on Daniels Park Road Closures Extended Through March 2009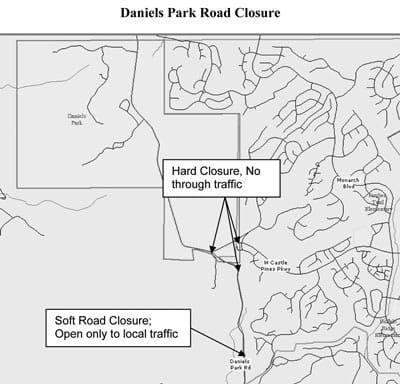 by Terri Wiebold
In late August, the Douglas County Commissioners passed a resolution to keep Castle Pines Parkway from Buffalo Trail west to Daniels Park Road and south on Daniel's Park Road to the existing end of pavement closed until the end of March 2009.
The closure is to allow for the continued construction of the Daniels Park roadway project and to facilitate Xcel Energy's relocation of existing gas lines.
The Gas line relocation is only the beginning of a much bigger project that will rebuild Daniel's Park Road and Castle Pines Parkway. Once the gas line project is completed, the road reconstruction can begin. Douglas County anticipates completion of the road project by March 2009.
Please direct any questions regarding the road closure to Gary Walter, Senior Development Review Engineer, Douglas County Public Works Engineering Division at 303-660-7490.
For more information about the entire Daniels Park Upgrade Project, go to
http://www.cpnhoa.org/pages/news/articles/2008/qtr3/connection/danielsPark.htm.