DCS Montessori students join Douglas County Honor Choir
June 1, 2009
/
/
Comments Off

on DCS Montessori students join Douglas County Honor Choir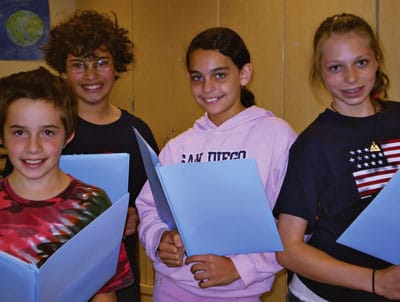 DCS sixth grade honor choir students from left to right: Nicholas B., Marston T., Mariah P., and Paige V. (Photo courtesy of Lorraine Cooper)

by Tracy Dudley
Seven sixth graders from DCS Montessori performed in the Douglas County Sixth Grade Honor Choir concert on April 16 at Rock Canyon High School. Nicholas Bommarito, Mariah Pendergrast, Kaylie Spencer, Caleigh Stinson, Marston Tweed, Paige Von Bank, and Samantha Wachendorf all made the cut after tryouts with other sixth grade students in Douglas County.
Once selected, students committed to study, learn, and memorize nine pieces of music, then attend a group rehearsal to practice the music with other Honor Choir students from the area.
On April 16, a combination of approximately 150 sixth grade students from Douglas County presented a wonderful concert that premiered a work by guest conductor Becky Bowles.
"Becky Bowles, the conductor, really connected with the students and inspired them to give their best efforts and create something beautiful that, I believe, was not only satisfying to each of them personally but was deeply moving to the audience.
The work that she commissioned for the Honor Choir entitled "Rain" brought the audience to its feet at the conclusion," said Lorraine Cooper, DCS Montessori music instructor.
According to Cooper, this was a very memorable and positive experience for her students. Each worked very hard, put in extra time to learn the pieces, and remained focused and attentive throughout the rehearsal and the concert.
"I enjoyed meeting new people. To stand in front of an audience and sing my heart out was an amazing experience. My legs were shaking and my hands were sweaty," said Spencer.