Denver celebrity speaks at American Academy
January 1, 2010
/
/
Comments Off

on Denver celebrity speaks at American Academy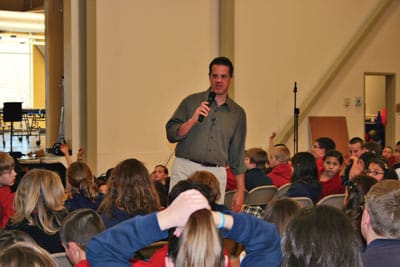 Local disc jockey Dom Testa gives an inspirational presentation to American Academy students.
by Kathy Dunker
Excitement was in the air at American Academy for a December assembly led by local disc jockey, Dom Testa, from the Dom & Jane morning show on Mix 100 (FM100.3). Testa, an award winning writer for young adults, spoke to the American Academy's fifth through eighth grade students about the writing process and the possibility of writing as a career.
Testa told the students his three criteria for writing a book are passion for books, patience, and determination. He told the kids about how his first 242 page book in his Galahad book series took four years from start to finish.
"Work on it one step at a time, one paragraph at a time," were Testa's words of advice. He said that writing even as little as ten minutes a day can produce significant results. Writing 1000 words a day is enough to finish a book in only three months!
Testa's goal is to help kids through inspirational speaking and workshops to develop their creativity. Testa went on to discuss the peer pressure that exists with teenagers and their desire to fit in. He emphasized the idea that "smart is cool" and encouraged the students to never succumb to the pressure of others who may call them "nerds" or try to drag them down for their creativity or intellectual ability.
Testa has an Educational Foundation and a website called The Big Brain Club which can be found at www.bigbrains.com. The website contains writing exercises and tips for young aspiring writers. Testa's message was well received by the students at American Academy. After his talk, the students enjoyed a question and answer session with the local celebrity.