May 1, 2018
/
/
Comments Off

on Douglas County Art Show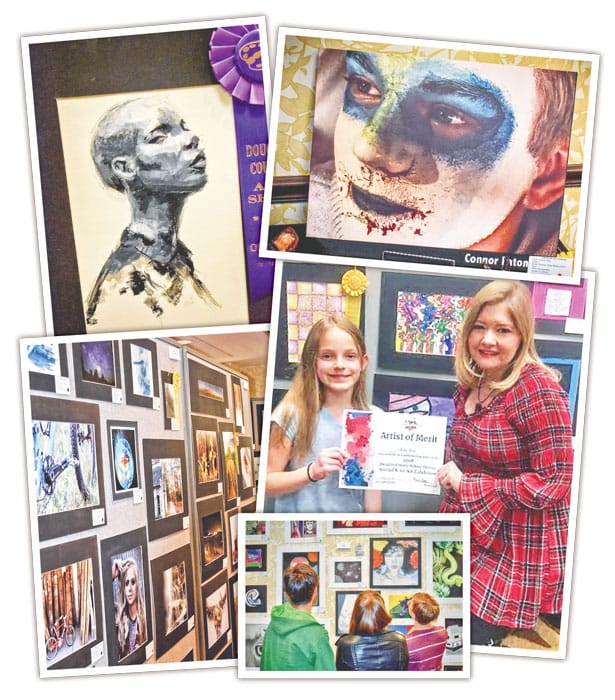 By Liz Rector; photos courtesy of DCSD
In a grand room at the Hilton Garden Inn in Highlands Ranch, art created by students of all ages was set up on display for the Douglas County School District (DCSD)'s K-12 Visual Art Show. The show took place April 6-9 and included art of various mediums. Art teachers throughout the district chose student pieces to submit to the show and categories included: ceramics & glass, computer art and design, drawing, printmaking, jewelry (high school), mixed media, painting, photography and sculpture.
Due to space constraints, these are the following students who received first place and best of show, their school, and the medium in which they worked (for middle and high school).
High School
Justine Beerline (12th, ceramics & glass, ThunderRidge), Cooper Johnson (12th, computer art/design, Legend), Abigail Gertzen (10th,drawing, Rock Canyon), Michela Johnson (12th, jewelry, Legend), Lauren Anusencion (10th, mixed media, Ponderosa), Dana Coe (12th, painting, Rock Canyon), Lale Edil (10th, photography, Rock Canyon), and Kaylee Schuler (12th, sculpture, Douglas County). Alexandra Siple from Legend High School won "Best of Show 2D" and Aja Walker from ThunderRidge High School won "Best of Show 3D."
Middle School
Sarah Coon (7th, ceramics & glass, Rocky Heights), Amanda Sparks (8th, computer art/design, Cimarron), Jessica Powell (8th, drawing, Cloverleaf), Caroline Blair (8th, mixed media, Sagewood), Claire Blaeser (8th, painting, Rocky Heights), Bryce Casillas Reed (8th, photography, Academy Charter) and Destiny Zimmerman (8th, sculpture, Cimarron). Jacob Herrera from Cloverleaf Middle School won "Best of Show 2D" and Haley Caster from Castle Rock Middle School won "Best of Show 3D."
Elementary School
Matthew Strawn (3rd, Highlands Ranch K-3 competition, Stone Mountain), Lyric Miller (4th, Highlands Ranch 4-6 competition, Timber Trail), Hunter Neal (3rd, Parker K-3 competition, Mammoth Heights), Stina Rydahl Kim (4th, Parker 4-6 competition, Pinegrove), Aiden Dexter (3rd, Castle Rock Competition K-3, American Academy) and Ethan Force (6th, Castle Rock 4-6 Competition, Castle Rock). Hadley Bess, a 5th grader from American Academy Castle Pines, won "Best of Show 2D" (see related story page 43). And Russell Ricciardi, a 4th grader from Renaissance won "Best of Show 3D."
Congratulations to all of the winners.