Douglas County libraries share the love of reading with children
August 1, 2010
/
/
Comments Off

on Douglas County libraries share the love of reading with children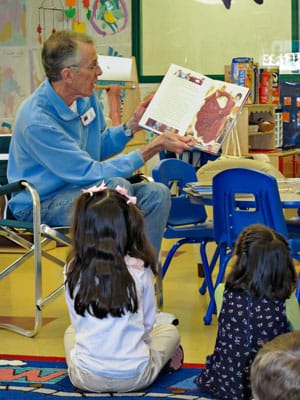 Book Start volunteer Jim Clements reads to children in a Douglas County childcare center. Book Start, an early literacy program of Douglas County Libraries, is seeking more volunteers.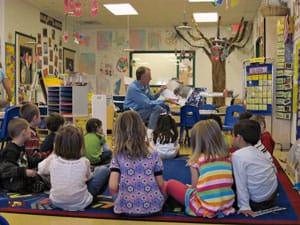 Information provided by Nanci Marr, Community Relations Specialist, DC Libraries
According to a recent Volunteering in America report by the Corporation for National and Community Service, and especially in these economic times, Coloradans love to volunteer.
Douglas County Libraries provides a perfect volunteering opportunity for anyone interested in sharing the love of reading with children.
Book Start Early Literacy is an inter-generational program that brings quality literature to children in childcare centers throughout Douglas County. Volunteers must provide their own transportation, love reading, have a clear reading voice, and desire to read to children. No prior experience is required, and volunteers commit a minimum of two hours per week for three months.
Castle Rock resident John Glendenning has been a Book Start volunteer for 12 years. Glendenning says he volunteers with Book Start to give something back for the instruction he got as a child, and perhaps, to improve upon it.
"When I was learning to read, I sometimes didn't understand what I was reading and no one would take the time to help me understand," he says. "I get a great deal of satisfaction reading with kids, seeing the comprehension on their faces, and enjoying their reactions."
In 2009, volunteers provided Book Start storytimes to more than 45,000 Douglas County children. "Volunteering in this program is quite rewarding," Glendenning added. "I get a lot of positive feedback. Lots of hugs and thank yous."
Douglas County Libraries provides Getting Started, a program orientation workshop, on the third Wednesday of each month from 9:30 a.m. to noon at Philip S. Miller Library in Castle Rock. After training, Book Start volunteers are placed in county childcare centers.
Volunteers who complete Getting Started and sign up to be readers also receive an additional four hours of training in an Every Child Ready to Read workshop. Workshops teach volunteers to lead high-quality, age-appropriate early literacy activities that contribute to a children's readiness for school and reading.
Book Start currently serves 39 commercial childcare centers in Douglas County. Geri Domareck, program coordinator, hopes to grow her volunteer base to accommodate licensed in-home childcare providers as well.
"There are approximately 300 in-home providers in the county who can't get the children in their care to the library because they don't have enough seatbelts in their cars," says Domareck. "Their young charges also have early literacy needs that could be met by Book Start."
Douglas County Libraries' literacy department offers language development programs for all ages based on the value of reading. Its goal is to create community partnerships and a rich environment for learning and personal growth.
For more information or to reserve your seat in the next Getting Started workshop, call coordinator Geri Domareck at 303-688-7658 or e-mail.