Douglas County School Board adopts "blueprint for choice"
April 1, 2011
/
/
Comments Off

on Douglas County School Board adopts "blueprint for choice"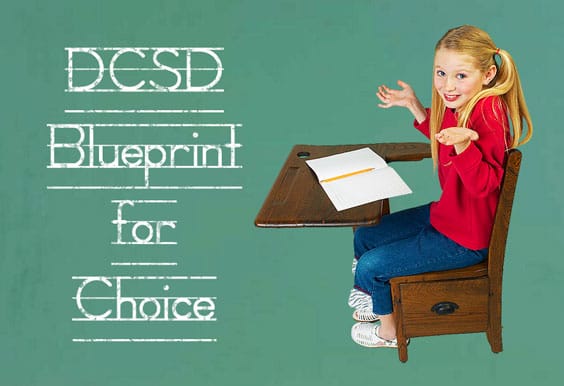 By Lisa Crockett
The Douglas County School District (DCSD) Board of Education unanimously passed a resolution in support of the district's comprehensive strategic plan, including a "blueprint for choice." The blueprint for choice includes the "choice scholarship pilot program" for fall 2011. These scholarships (previously known to many as "vouchers") will provide funding to DCSD families and will allow as many as 500 hundred elementary, middle school or high school students to attend private schools.
"Douglas County is a high-performing school district and our school board is committed to constant improvement," said John Carson, president of DCSD Board of Education. "The Board has voted unanimously in favor of more choice and accountability with a firm belief that this will benefit all of the students in the Douglas County School District."
In addition to scholarships, the blueprint for choice contains recommendations and associated timelines regarding the implementation of choice initiatives encompassing neighborhood schools, charter schools, magnet schools, a new home-education program and contract schools.
"Douglas County School District has a tradition of innovation, excellence, and economic efficiency," said DCSD Superintendent, Dr. Elizabeth Celania-Fagen. "The Strategic Plan, including the blueprint for choice, will help align our work, keep us true to our traditions, and move this district toward our goal of providing a world-class education for the 21st Century."
Scholarships will be contingent upon private schools agreeing to criteria established by the district, including testing standards and admission criteria. As of press time, scholarships are estimated to be worth $4,575 per year, or the actual cost of the private school tuition, whichever is less. The value of the scholarship is contingent upon the funding DCSD receives from the State of Colorado and is subject to change.
Also included in the resolution, the Board of Education approved revisions to the policy regarding open enrollment in DCSD to provide easier access to educational choices for students inside and outside of Douglas County who wish to take advantage of learning opportunities in DCSD.
Meetings run by DCSD gave rise to vigorous debate about the merits of the program. For the complete text of the blueprint for choice, visit www.dcsdk12.org. For information from the group in support of the program, visit www.greatchoicedouglascounty.org; for information from the group opposed to the program, visit www.taxpayersforpubliceducation.org.