East-West Regional Trail Expansion Planned New Trails to Join Communities
June 1, 2008
/
/
Comments Off

on East-West Regional Trail Expansion Planned New Trails to Join Communities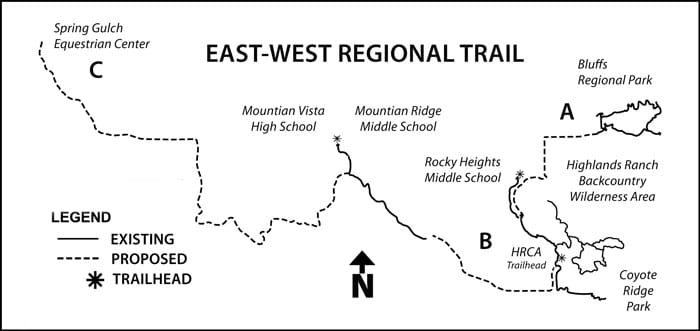 by Terri Wiebold
Douglas County plans to begin construction late this spring on three additional sections of the East-West Regional Trail project that, once complete, will form one continuous trail from Highway 85 east to the Bluffs Regional Park. This phase will complete the western portion (approximately 50 percent) of the planned East-West Regional Trail Project that began in 1988.
"We're excited about the opportunity to connect so many people to a regional trail system," said Randy Burkhardt, parks and trail planner for Douglas County. "Ultimately people will be able to go from Parker all the way to Durango when it's all complete."
The new trail will be a mixture of six-foot wide natural-soil surface trail in the middle section (See section B above), and eight-foot wide crushed rock soft surface trail for the eastern and western sections (sections A and C above).
Section A will start at the northern underpass of the existing trail at Monarch Boulevard and run north and then east until it connects with the trail at the Bluffs Regional Park. Section B will begin at the southern underpass of the existing trail at Monarch Boulevard and run west through the Highlands Ranch Back Country Wilderness Area and connect to the existing trail at Griggs Road. Section C will connect to the existing trail just south of Mountain Vista High School in Highlands Ranch and continue west and then north until it reaches Santa Fe (Hwy 85) near Highlands Ranch Parkway.
"By adding these [approximately] 12 miles of trail to our existing system, we'll tie into the regional trails of Highlands Ranch, Castle Pines North, Lone Tree, and the South Suburban Parks and Rec District, adding more than 200 total miles of Regional Trail," said Burkhart.
Great Outdoors Colorado awarded Douglas County a $1 million lottery fund grant for the project – the first of its kind. Congratulations Douglas County!