Evening with the Arts – an evening to remember at Buffalo Ridge Elementary
May 1, 2011
/
/
Comments Off

on Evening with the Arts – an evening to remember at Buffalo Ridge Elementary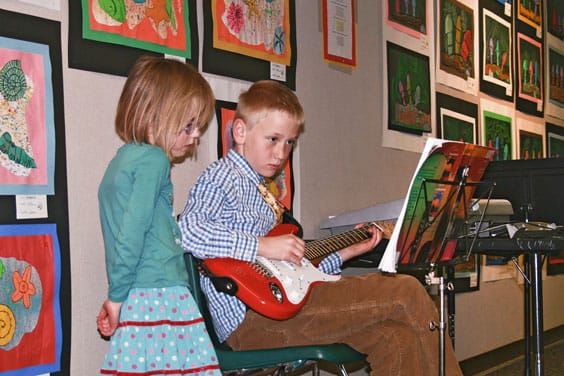 Electric guitar player, Thomas, performs in an art-filled hallway of Buffalo
Ridge Elementary School during Evening with the Arts in March.
Article and photos by Elean Gersack
Buffalo Ridge Elementary School (BRE) students and families enjoyed an evening to remember during the third annual Evening with the Arts on Thursday, March 31. Hosted by the school's parent-teacher organization, Buffalo Ridge Educational Alliance (BREA), the night was dedicated as a celebration of student art.
Hallways throughout the school were adorned with student created watercolors, pastels, mosaics, oil paintings, clay sculptures and more. At least one piece of art from each student was on display and in many cases two or three pieces were presented. "It looked like a gallery," noted Nancy MacIntosh, BRE Art Teacher. "It was really a great feeling to see the students' work [displayed] all at once," she added.
While families meandered through the school to view the amazing art displays they were serenaded with musical selections played by budding BRE performers. The halls were full of piano, violin, guitar, harp and voice melodies. In the gymnasium, the Rock Canyon Elementary Band, touting many BRE students, played. "I was so proud of the kids who performed. They sounded beautiful. The whole night felt magical to me," commented Cathy Deneault, BRE Music Teacher.
To complement the evening, the BREA hosted a silent auction featuring classroom gift baskets and teacher gifts of time, with proceeds supporting writing, art and music programs at the school. "Without a doubt, our favorite thing about the evening was that it was truly a fun community event that showed how much we support our school and our kids. We have already begun plans for next year's event, hoping to keep this tradition going strong," said Christina Duncan, BREA co-president.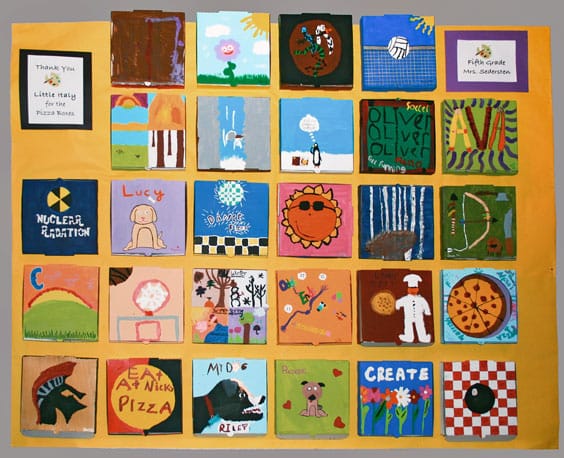 Mrs. Sedersten's fifth graders used pizza boxes to create a mosaic wall art piece.