French students become part of the Jaguar family
April 1, 2018
/
/
Comments Off

on French students become part of the Jaguar family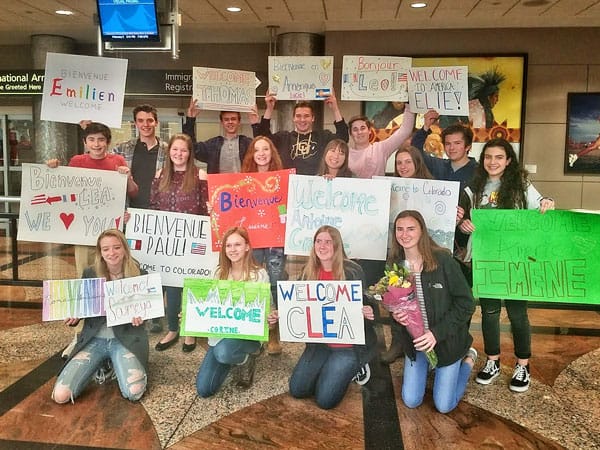 RCHS students and families welcomed eight students from France on February 2 as part of a three-week exchange program.


By Lisa Nicklanovich; photos courtesy of Alexis Savas
Rock Canyon High School (RCHS) students and families welcomed eight students and one teacher from France on February 2 for three weeks as part of a French exchange program, organized by French teacher Alexis Savas and the company Language and Friendship.
The French students travelled from Tournon-sur-Rhône in the southeast region of France and were each matched with a host family, which included a student from RCHS. The French students attended classes at RCHS with their host sibling the first week, then they attended classes with French Honor Society students who had signed up to take a student for a day. The variety gave the French students the opportunity to meet and spend time with many Jaguars and experience different classes and teachers.
Each French student had a unique experience through the view of their host family who gave the students a sense of what life in America, and Colorado, is like. Highlights from the different experiences included visiting Garden of the Gods, Vail, Steamboat Springs, exploring the ice castles in Dillon, tubing in Winter Park, snowshoeing in Rocky Mountain National Park and even attending a rival high school basketball game. Luke Miller, whose family hosted Lea, said, "We went skiing, bowling, to the Colorado Ballet, to after-school events and different restaurants."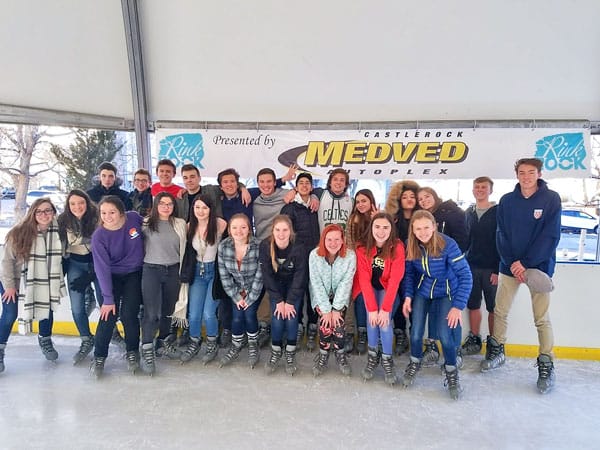 The French students and their host families all came together to go ice skating at the rink in Castle Rock. The group also attended French night at the Avalanche vs. Montreal Canadians hockey game.

Many of the students enjoyed the day-to-day activities too. Maria Pangalos, whose family hosted Imene said, "Some of my favorite memories were just sitting and talking for hours, having a movie night and just making dinner together. Imene made everything fun, even if it was as simple as going to the grocery store, it was like we were going on an exotic expedition." Maria Miller said one of her favorite memories of having Lea visit was taking her through the car wash. "She had never experienced that before and thought it was so fun!"
Savas said, "It's important to continue this type of exchange so students get to see things from a new perspective." Ava Miller exclaimed, "My brother and I now have a lifelong host sister that we can always reach out to. I talk to Lea every day. The hardest part of this experience was saying goodbye to our sister and the other students who came." Savas added, "Everyone was crying at the airport saying goodbye because they didn't want their new sister or brother to go."
Families with high school students who are interested in hosting future exchange students can contact Savas at alexis.savas@dcsdk12.org.