Rock Canyon boys basketball has top 4 finish and coach's 100th win
April 1, 2018
/
/
Comments Off

on Rock Canyon boys basketball has top 4 finish and coach's 100th win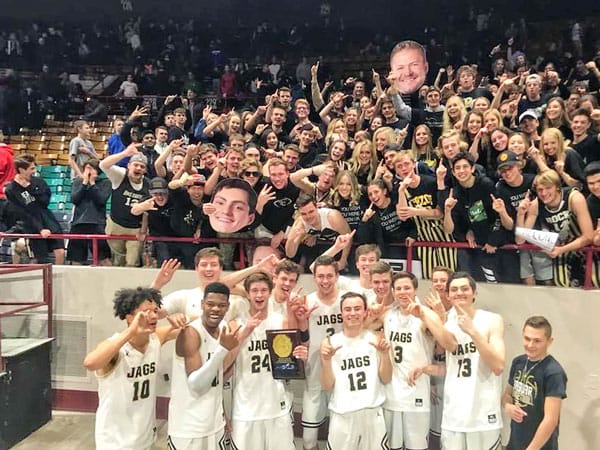 The RCHS boys basketball team on March 3 at the Great 8 game where they beat Overland High School 54-47, taking them into the Final 4 for the second consecutive year.
By Jack Hibbett, RCHS intern writer; photos courtesy of Lukas Makikali and Andy Abner
On November 29, 2017, another amazing season for Coach Kent Grams and the Rock Canyon High School (RCHS) boys basketball team began. In a season filled with ups and downs, an eventual top four finish, and Grams' historic 100th win, many amazing events and accomplishments made the season even more spectacular than the previous.
The RCHS basketball team quickly jumped out to a strong start, winning its first 18 games and eventually ranking as the number one team in the state. The team then experienced a tough loss at Chaparral, but coaches and players alike stayed very positive, stating how the loss helped humble the team and get them back on track with the right mentality to win a championship. Before finally embarking on their playoff run, they did lose another game to Thunder Ridge, but the Jaguars had a great regular season record of 21-2 and secured the number one spot going into the tournament.
In the tournament, RCHS quickly showed their dominance and received wins at Columbine, Eaglecrest and Overland before entering their final four match-up against George Washington High School (GWHS) at the Denver Coliseum. After forcing the game into overtime, some quick fast break plays from GWHS left the RCHS players disappointed with the final score but not of their overall performance. It was clear to everyone that RCHS had one of the most dominant teams in the state and should be proud of how far they came.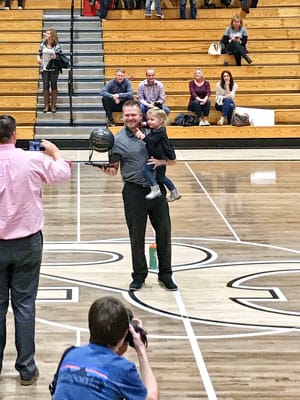 RCHS boys basketball coach Kent Grams after getting his 100th win. The team finished the season in the top four after losing to George Washington High School in overtime.
This season was an especially important and memorable one for Grams as he received his 100th win coaching the boys basketball program. One hundred wins is no small feat, and it shows how dedicated Grams was to being a winner and to RCHS as a whole. Grams has gained a lot of respect from his peers and players and is known for having a lovable personality while instilling a mentality in his players that allowed them to play at the highest level every single year. RCHS varsity basketball player and Castle Pines resident Jake Hasset stated, "He's just a really good coach and cares even more about developing you as a person than as a basketball player."
On March 9, RCHS played their last game of the season, and although falling short on their overall goal of a state title, they certainly accomplished many other goals along the way, leaving a legacy that will never be forgotten.