Friends of Douglas County K-9 host "Howling Good Time"
October 1, 2011
/
/
Comments Off

on Friends of Douglas County K-9 host "Howling Good Time"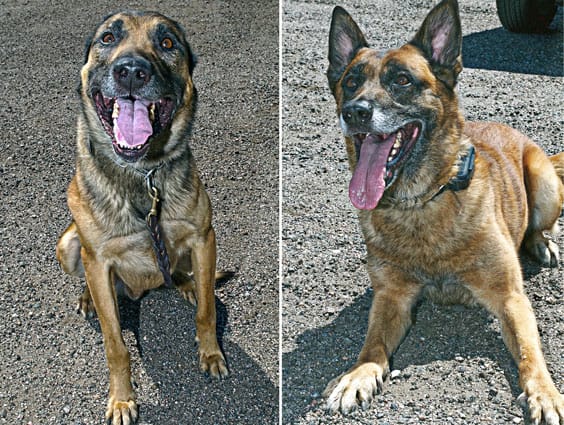 Retiring Douglas County K-9 Unit dogs: Axel (left) is ten years old and has been with the DCSO since 2003. Leon, 9 1/2 years old, is certified in patrol and narcotics detection.

Press Release submitted by Friends of Douglas County K-9, photos courtesy of Allison Shaw
The first ever Friends of Douglas County K-9 fundraising gala, "Howling Good Time," will be held at Cielo at Castle Pines on October 12 at 6 p.m. The event will feature a tribute to two retiring K-9 unit dogs, a live auction and an introduction to the newly formed non-profit organization, Friends of Douglas County K-9. Noted comedian and veterinarian Kevin
Fitzgerald will emcee the event.
This year, the Douglas County Sheriff's K-9 Unit will be retiring two dogs, K-9 Axel and K-9 Leon. With the exception of deputy salaries and vehicles, the K-9 Unit is funded almost solely through donations. With two dogs retiring, donations are necessary in order to purchase new dogs, fund their training, and outfit them with safety gear.
Hosted by Friends of Douglas County K-9, "Howling Good Time" will directly benefit the Douglas County Sheriff's K-9 Unit by raising funds to provide for Axel and Leon, purchase new animals and appropriate safety gear, and provide for ongoing training and maintenance. A new K-9 Unit dog can cost $12,000, without training or safety equipment. In addition, retired K-9 Unit dogs must receive proper care and rehabilitation to adjust to life outside of the Unit. In total, a K-9 dog may cost upwards of $40,000 over its lifetime.
"For almost seven years I had a partner that would do anything for me, that would protect me — no matter the situations I put him in," said Deputy Paul Montville, handler for retiring K-9 Leon. "Without hesitation or question, he would lay down his life so that I could go home again, so that a son could have a father, a wife a husband, a mother a son. Words can never truly express a relationship like that."
Tables and individual tickets for the gala are available for immediate purchase. For event information, to purchase tickets, make a donation or to learn more about Friends of Douglas County K-9, visit www.k9friends.org.