Granting wishes at Rock Canyon
April 1, 2017
/
/
Comments Off

on Granting wishes at Rock Canyon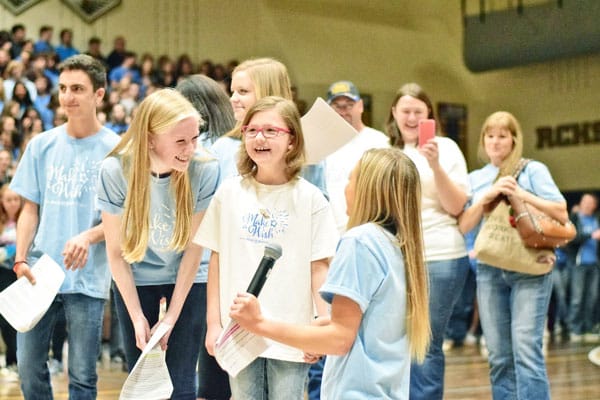 The Rock Canyon High School student council introduced Faith to the entire student body at the opening assembly of Wish Week.
By Sarah Bermingham, RCHS intern writer; photos courtesy of Julia Bartmann
Wish Week at Rock Canyon High School (RCHS) is an event everyone looks
forward to. "Wish Week is the most magical time of the year at Rock
Canyon," explained 2017 Wish Week chair member Claire Sweeney.
"Everyone comes together as a huge family to support one kid and their
wish."
For one week every year, RCHS raises money for the Make-A-Wish Foundation, an organization that grants the wishes of children with life-threatening illnesses. "Wish Week is important because it teaches our school and community the power of generosity. As high schoolers, we often get too caught up in drama or little setbacks and forget about how fortunate we are," said Megan Pitman, Wish Week committee chairperson and Castle Pines resident.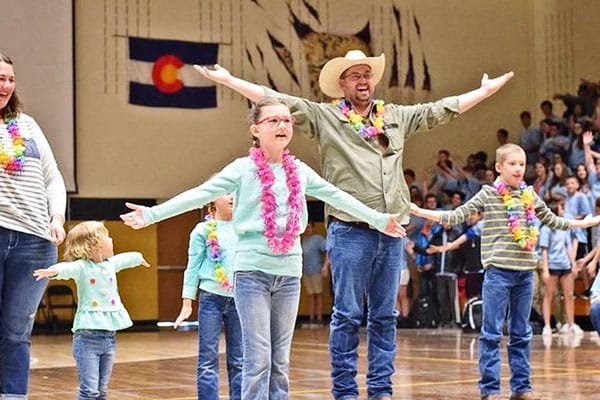 Faith, the "wish kid" for Rock Canyon High School's Wish Week this year, learned the hula with her family. Wish Week raises money for the Make-A-Wish Foundation, which grants the wishes of children with life-threatening illnesses. Faith's wish, which will be granted, was to learn the hula in Hawaii.
Every year, RCHS dedicates the whole week to one special "wish kid." So far, RCHS has sponsored eight kids (and granted many more wishes), and each one has a special place in the RCHS community. This year, RCHS welcomed seven-year-old Faith, whose wish was to learn to hula dance in Hawaii.
The school community raised $17,245.44 during an event called "Miracle Minute," raising more than enough money to grant Faith's wish. In one minute, the whole school rushes to dump as much money, mostly change, into buckets during the opening Wish Week assembly.
During Wish Week, students donated more money through restaurant fundraisers, school events and t-shirt sales. Some students showed their support by donating their hair and/or shaving their heads. The school community also supported Faith through school spirit days, where students dressed up as Faith's favorite things. For example, one day the theme was USA day because Faith's favorite Olympic athlete is Simone Biles, who sent her support by mentioning Faith on her twitter page that day. Other spirit days included Pink day and Hawaiian day.
In all, RCHS raised $68,958 during Wish Week this year, which was enough money to grant more wishes than just Faith's. But money was not the only thing that brought the school together; Wish Week also created a kind, positive environment. "Wish Week brings the school together by encouraging everyone to get involved in many ways. This doesn't mean just raising money, but by doing things like saying "Hi" to someone you normally wouldn't," Collette Haberland, a Wish Week chairperson and Castle Pines resident stated. "I love how our school truly gets transformed into a loving place."