Happy Canyon Road roundabouts on hold
November 1, 2010
/
/
Comments Off

on Happy Canyon Road roundabouts on hold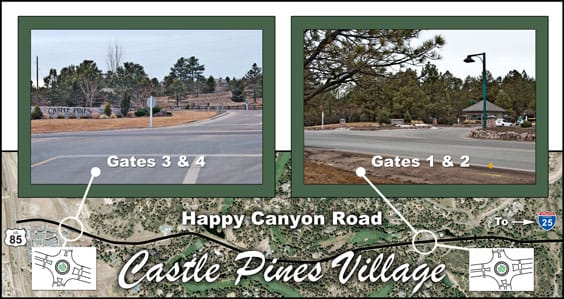 by Elizabeth Wood West
The colorful fall foliage and tall pines make the short drive on Happy Canyon Road quite lovely this time of year. However, there is something missing: No roundabouts construction.
After receiving approval from Douglas County to move forward with the construction of two roundabouts at Gates 1 and 2 in Castle Pines Village, the Castle Pines Metro District (CPMD) was planning on a September starting date for the project and estimated that construction would be finished before the end of December.
However, according to CPMD President and Board Chairman Joe Gschwendtner, only two construction bids were received within the small time window set for the project. Because the bids came in higher than expected, CPMD's Board of Directors have decided to streamline the project costs, re-bid the project plans in early 2011, and proceed with the roundabouts construction in spring 2011.
Gschwendtner said "Our resolve has not changed one iota, but we must be good stewards of public moneys. We concluded we needed wider distribution among vendors. This has set us back only with our timeline. The board feels that this review/re-bid process will be more fiscally sound, and will provide an opportunity for more contractors to bid on the project. The board is wholeheartedly committed to the project because Village safety and critical traffic-calming are at stake," said Gschwendtner. "We will get the job done."
For further information, contact CPMD District Engineer Jon Gray by e-mail or call 303-688-8330.