Hess Road extension currently underway
December 1, 2009
/
/
Comments Off

on Hess Road extension currently underway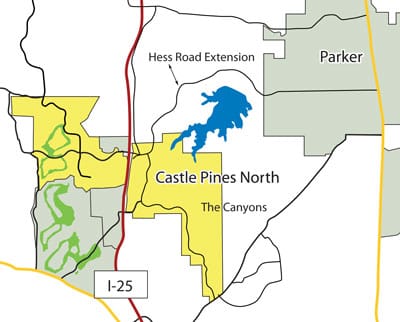 by Lisa Crockett
In October, the Douglas County Board of County Commissioners approved a construction contract with Hudick Excavating, Inc., for the eastern phase of the extension of Hess Road, which is now underway.
The extension will serve as an east-west connection between Castle Pines North (CPN) and Parker. Currently, Hess Road terminates at Chambers Road in Parker.
The phase of the road now under construction will extend the road nearly a mile and a half to the west.
"The County's current plan is to advertise construction plans for competitive bids in early 2010 that will complete the Hess Road Extension project," said Wendy Holmes, Public Affairs Director for Douglas County. "Engineering staff is optimistic the project will be open to traffic by the end of 2011."
At completion, Hess Road will be a thoroughfare through The Canyons development, a planned community east of I-25 which was recently annexed into CPN. Final completion of the Hess Road project is scheduled to take place before July 2012.