HOA 1 seeks to separate from the CPN Master Association
January 1, 2010
/
/
Comments Off

on HOA 1 seeks to separate from the CPN Master Association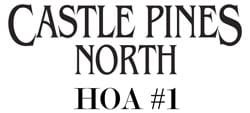 by Kathy Dunker
The recent Master Association annual meeting included an interesting announcement from HOA1 Board member, Dick Lichtenheld. The Board of HOA1 would like to separate from the Castle Pines North Master Association. According to Lichtenheld, the withdrawal would result in an 18 percent reduction in HOA dues for the residents without any reduction in services.
Lichtenheld stated that the HOA1 Board recognizes that the Master Association (through homeowner dues) has contributed significantly to the development of new parks in Castle Pines North (CPN). In fact, since the inception of the parks fee by the Master Association, HOA1 residents have contributed nearly $500,000.
In addition, HOA1 has conveyed for fair value more than 10 acres of land for the new park on Lagae Ranch. HOA 1 still maintains a full set of community amenities for its residents, including more than 40 acres of open and park space, paved and lighted trails, a full-service clubhouse, a swimming pool, and a children's play area.
According to Lichtenheld, the HOA1 Board of Directors is mindful of the need to reduce the cost of home ownership for its residents while maintaining a level of service commensurate with an upscale neighborhood.
Given the incorporation of the City of CPN and the full funding of planned parks, the HOA1 Board undertook a review of costs imposed on HOA1 residents. The Board raised the question as to why HOA1 residents should continue to pay for the Master Association given that most functions are now under the City of CPN and the parks are already funded? Accordingly, the Board unanimously requested its Master Association delegate to inquire about withdrawal of HOA1 from the Castle Pines North Master Association.
Lichtenheld said that so far the request has only been an inquiry to the Master Association Board. "Our next step is to learn from the Master Board what procedures and legal requirements there are for dissolution."