Eagle Scout builds gazebo for Historic Lowell Ranch
January 1, 2010
/
/
Comments Off

on Eagle Scout builds gazebo for Historic Lowell Ranch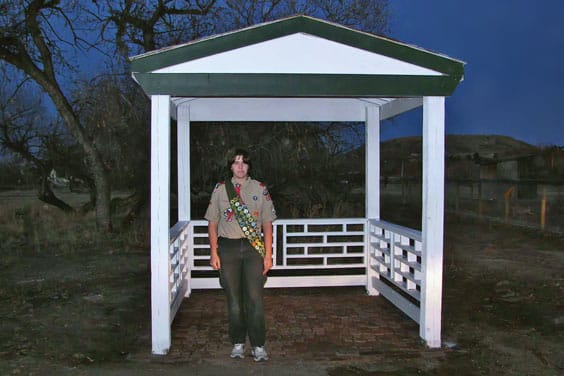 Eagle Scout Connor Smith stands in the gazebo he built at the Lowell Ranch in Castle Rock.


by Elizabeth Wood West
Connor Smith has been a Scout most of his life, having joined the Cub Scouts in first grade. A Rock Canyon High School senior and Oak Hills resident, Smith completed all Cub Scout rank requirements for Bobcat, Tiger Cub, Wolf, Bear, and Webelo; he then received the Arrow of Light award and officially crossed over into Boy Scout Troop 316 of Castle Pines North. Smith has gone on to meet the rank requirements for Tenderfoot, Second Class, First Class, Star, and Life Scout. Now at age 17, Smith is about to earn the highest rank in Boy Scouts of America – Eagle Scout.
"I built an 8'x8' gazebo for the Colorado Agricultural Leadership Foundation (CALF) at the Lowell Ranch in Castle Rock. Both CALF and 4H members will benefit from the project," said Smith. "I picked this project because another Scout in the troop did his project at the Lowell Ranch, and I found out that Mr. Lowell wanted a gazebo built at the Ranch."
Smith built the gazebo from the ground up using four 6×6' posts and three handmade heavy railings. The the roof was constructed and the pavers were put down for the floor of the gazebo. "I paid for the project by using some money I had earned from fund raisers, several donations from neighbors, and Home Depot," said Smith. "The people who helped with the project were people from 4H, friends, neighbors, and some Scouts from our troop."
Smith said the experience taught him how to truly be a leader and how to coordinate a big project. "I learned that not all projects go as planned. The gazebo came out how I envisioned it. The weather was a big factor, as I had to postpone work days until the weather cleared up. Also, a neighbor donated twelve 2×6' redwood boards, but when I went back to get some more, he had cut them to 5' lengths so I had to adjust how the roof was going to be built."
In reflection, Smith concluded by saying, "It's an honor to become an Eagle Scout since only a few ever make it that far."