Hollywood Nights; a night to remember
March 1, 2016
/
/
Comments Off

on Hollywood Nights; a night to remember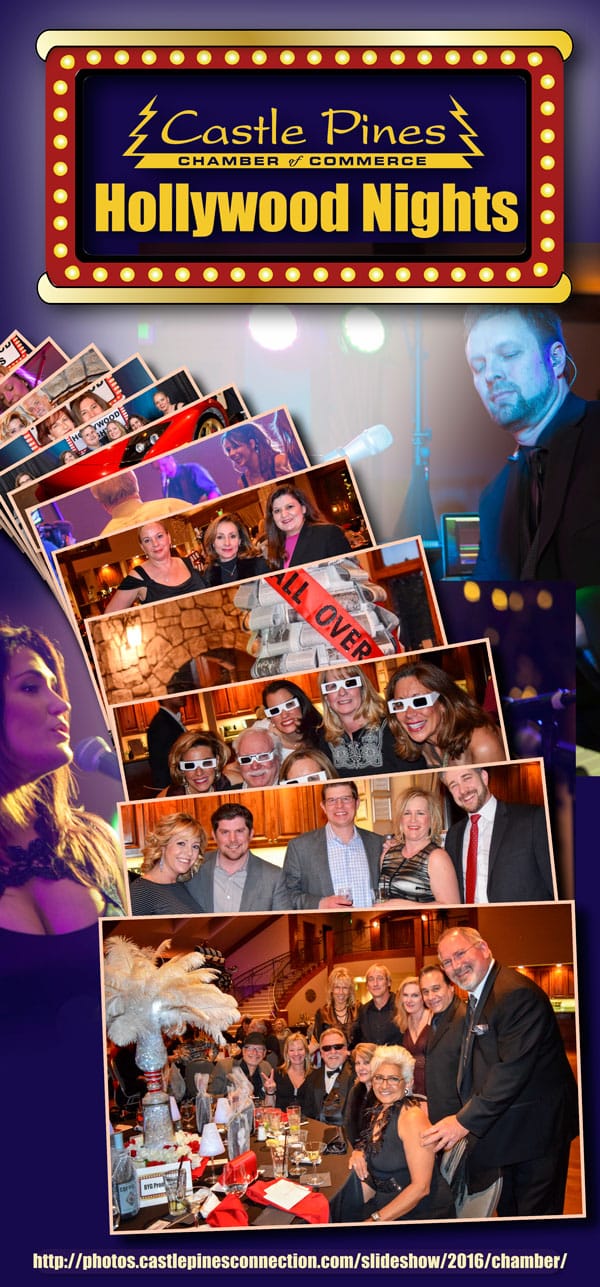 Submitted by The Castle Pines Chamber of Commerce; photos by Lynn Zahorik and courtesy of Brian Imhof Photography
Oh what a night! Paparazzi, a red carpet, live music, and dancing were all a part of the fantastic 2016 annual banquet held by The Castle Pines Chamber of Commerce on February 18 at beautiful Cielo at Castle Pines. More than 120 chamber members and their guests enjoyed the evening, which celebrated the Chamber's successes over the past year.
In keeping with tradition, the Chamber was pleased to honor a Business Person of the Year and a Citizen of the Year. Angie Norkus of Norkus Flooring received recognition as Business Person of the Year, due to her tremendous accomplishment in building her successful business in Castle Pines and for her support of the Chamber. Norkus was reflective after being recognized. "When I started my business seven years ago, it was the same time the Chamber started and I got involved immediately. The best advice I can give is if you own a business, join the Chamber and get involved. Don't just be a line item in a directory – be involved. It's been a major part of my success!"
Castle Pines City Council member and Mayor Pro Tem Tera Radloff received the award for Citizen of the Year for her dedication to our City and the Chamber. Radloff remarked, "I am truly touched by the honor. Serving our community is my passion and my privilege. The event was amazing, as are the Chamber and its members. It's a great organization in a great city."
Congratulations to BYG Promotions for being named best decorated table, and special thanks go out to Carla Kenny and Amy Shanahan for putting the event together along with Event Whisperers, a group of talented event specialists who provided amazing live music, video, photography, and most of all, an evening to remember (Facebook.com/eventwhisperers).
Thanks and recognition were also given to the evening's sponsors: The Canyons, The City of Castle Pines, Norkus Flooring, Allstate-Tammy Lopez, Park Meadows Retail Resort, The Animal Care Center of Castle Pines, The Castle Pines Connection, Guaranty Bank, BYG Promotions, Castle Pines Eye Care, Castle Rock Bank, Douglas County Libraries, Spector, Dodd & Associates, Stone-Segal Wealth Management, LIV Sotheby's, Elements Massage, Wayne Ruegge CPA, Christian Brothers Automotive, Canyon Title, and the Country Club at Castle Pines.
For more information about the Castle Pines Chamber of Commerce, visit www.CastlePinesChamber.com. To see photos and video of the annual banquet, please find us on Facebook.com/CastlePinesChamber. A separate slideshow of the event is also available at www.castlepinesconnection.com in the "Photo Album."