Idaho Springs offers close family fun this summer
July 31, 2014
/
/
Comments Off

on Idaho Springs offers close family fun this summer
By Steve Baska; photos courtesy of Clear Creek Rafting Co.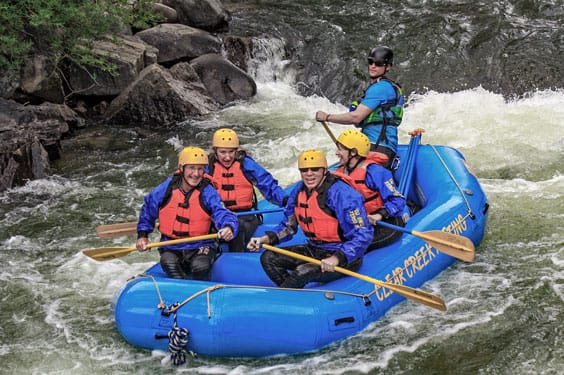 Castle Pines residents Steve and Vickie Baska (right side of raft) and Doug and Stephanie Moen (left side) rafted on Clear Creek, guided by Ken (back) from the Clear Creek Rafting Co.
There are many day trip destinations within easy driving distance from Castle Pines that the options can boggle the mind. A popular one with local residents is the Idaho Springs/Georgetown corridor, two small towns a few miles apart on I-70, roughly 40 miles northwest of Castle Pines.
Idaho Springs is popular as a center of white water rafting on Clear Creek. The creek winds next to I-70 and is fed by melting mountain snow, generally until late August. Locals and tourists climb into rubber rafts with an expert guide giving instruction and steering the raft. Rafters choose their trips among beginner, intermediate or advanced sections of the creek.
Half-day rafting trips last roughly three hours total with transportation by bus and instruction on safety measures and how to paddle (about two hours actually on the water). There are 11 rapids sections between calm stretches on the trip.
Typical cost among the raft companies in Idaho Springs for a beginner trip with gentle rapids is about $47 per adult, $40 for a child, minimum age of seven. The intermediate trip is about $57 per person, minimum age of 14. The advanced trip is $77 per person, minimum age 16, and the trip is only run when water is high to enable the rafts to avoid rocks easier. Full-day trips are also offered for $105. Some of the rafting companies also provide a CD of photos of your group as part of the rafting fee.
For most tourists, even the beginner trip provides plenty of thrills and spraying water flying over the rafts. The rafts are built with foot cups, allowing passengers to hook your feet into cups on the bottom of the raft to help stabilize and keep you in the boat. Rafters are also loaned a life vest, helmet, and full-body wet suit for safety and comfort. Rafters are encouraged to wear shorts or a swimsuit, tennis shoes and bring their own dry towel. Hot showers are available if people want to shower after getting wet in the raft.
Reservations are a must in summer if you want to get the trip time you prefer. Trips are run rain or shine, and a typical cancellation policy is that there is no money back if you cancelled three days or less before a trip, but you will get a full credit to go at a later date.
While there are some restaurants and shops in Idaho Springs, many people also visit the larger town of Georgetown. Quaint shops and cafes line a historic downtown, and hiking trails are abundant on Guanella Pass, a paved road high above Georgetown with beautiful views.
For additional information about rafting on Clear Creek, visit www.clearcreekrafting.com.