Meet new residents, the Clapp family
July 31, 2014
/
/
Comments Off

on Meet new residents, the Clapp family
By Elizabeth Wood West; photo courtesy of the Clapp Family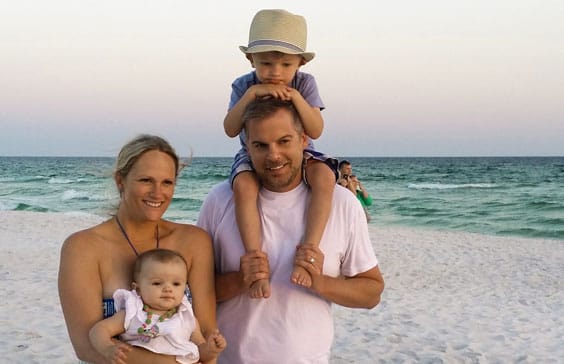 Forest Park residents Jonathan Clapp, wife Kate, daughter Saige, and son Ben vacationing at their favorite destination, WaterColor, Florida.
When Jonathan Clapp and his wife Kate braved a snowstorm with their realtor to visit a house in the Forest Park community in Castle Pines, which had gone on the market the day before, they knew they had found their new home. "We instantly fell in love with how beautiful the whole neighborhood was with the tall snow-covered pine trees and winding roads. We felt like we were in the mountains and always wanted to live in a community that really felt like Colorado," said Clapp.
Upon moving into their new home, the Clapp family was warmly welcomed by their neighbors. Clapp said, "We were shocked at how kind and friendly all our neighbors in our cul-de-sac are. We had cookies and Sunday evening parties to go to the minute we moved in. We are also lucky to have two families with teenage sisters (that our kids adore) living on both sides of us and who babysit for us. We love feeling secluded and close to nature, but still near to everything we could ask for."
Clapp grew up near Boston, received his undergraduate degree at the University of Vermont, and his master's degree at Georgetown University. He later received his M.D. at Rosalind Franklin/The Chicago Medical School and finished his residency at Rush University Medical Center. Clapp is a physiatrist, specializing in physical medicine, rehabilitation, and pain management. He works at Colorado Comprehensive Spine Institute and Castle Rock Adventist Hospital, diagnosing and treating spinal and pain conditions. Clapp explained, "While in my medical training, I found tremendous satisfaction working with chronic pain patients and had a special interest in the spine and its complex mechanics. It became clear that many patients had been misdiagnosed or misunderstood, as it is hard for most physicians to have time to listen to their patients' complicated issues. I enjoyed (and still do) working with patients to get the right diagnosis, maximize their function, and improve their quality of life."
The Clapps enjoy snowboarding, camping, golf, watching movies, and – along with their two young children, Ben and Saige, playing with trains, dance parties, working puzzles, and watching cartoons.