In a jam: ways to use the season's sweetness
September 1, 2016
/
/
Comments Off

on In a jam: ways to use the season's sweetness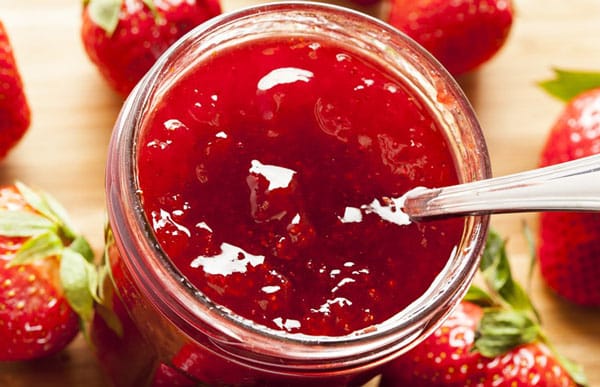 By Lisa Crockett
A jar of jam is a simple thing, and this time of year it's easy to find some delicious goodies to put on your pantry shelf. Sure it's great on a peanut butter sandwich or a piece of buttered toast, but jam, jellies and fruit butters are amazing ingredients for a myriad of other things. Here are some ways to put those tasty sweets to work in your kitchen.
Sweets –
– Whip equal amounts of butter and strawberry jam and spread on scones.
Over low heat, stir any flavor of jam until smooth and a bit runny to pour over vanilla ice cream.
– Whip cream to form stiff peaks, then add jam of your choice, whipping only until jam is well incorporated. Use this mixture as a filling for chocolate cake; raspberry and apricot are delicious with chocolate cake, strawberry is tasty with vanilla or yellow cake.
– Grab a package of refrigerated pie crust, cut into 3-inch squares and place on a baking sheet. Put a teaspoon or two of jam in the center and place another square of pie crust on top, using a fork to seal the edges completely. Freeze the squares, on the baking sheet, for about 30 minutes and then bake according to package directions.
– Put jam (amount according to your preference) into milkshakes.
Add jam to plain yogurt.
– Add preserves or jam to homemade vanilla ice cream.
Savories –
– Add jam to a cheese, cracker and charcuterie plate to balance its flavors.
– Spread a thin layer of jam onto grilled cheese (or grilled ham and cheese.)
– Glaze ribs with cherry preserves.
– Mix a 10-ounce bottle of Russian salad dressing, a packet of dry onion soup mix and a cup of apricot preserves to make a delicious glaze for baked chicken.
– Pour jam of any flavor over a warmed wheel of Brie or a chilled block of cream cheese; serve with crackers.
– Smear jam and sour cream on fried potato pancakes.
– Glaze ham with a mixture of orange marmalade, honey and grainy mustard.
– Make "jam jar vinaigrette" by combining two or three tablespoons of jam with about one tablespoon of red wine vinegar and three tablespoons of olive oil; add Dijon mustard and salt and pepper to taste. Serve on any salad; spinach salad is especially tasty with raspberry and strawberry.
And the pièce de résistance –
– Cube seven or eight slices of stale white bread; stir in about a quarter cup of jam or preserves (the apple butter on page 25 would be especially good in this recipe.) Pour the bread and jam mixture into a buttered, nine-inch square baking pan, then cover with a mixture of one cup milk, two beaten eggs, a pinch of salt and a half teaspoon of cinnamon (cinnamon is optional.) Bake at 350 for about 30 minutes, then serve warm topped with whipped cream or ice cream.