Keeping education relevant and local
October 1, 2019
/
/
Comments Off

on Keeping education relevant and local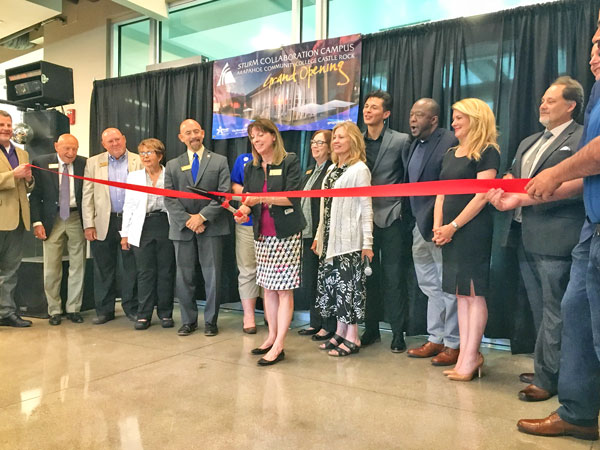 Diana Doyle, president of Arapahoe Community College, cut the ribbon at the August grand opening for the Sturm Collaboration Campus in Castle Rock. Joining Doyle were representatives from Arapahoe Community College, Colorado Community College System, State Board for Community Colleges and Occupational Education, Douglas County School District and Colorado State University System.


By Bryan Goodland; photo courtesy of ACC
Finding the right path to higher education can be a daunting task. Location, cost, the community the college is in and other concerns can seem insurmountable. That is where the Arapahoe Community College's (ACC) Sturm Collaboration Campus is hoping to step in. The campus held its grand opening on August 16.
Located in Castle Rock, the Sturm campus is meant to be a local option for students who are trying to find their higher education path. The campus is a collaboration between ACC, the Town of Castle Rock, the Castle Rock Economic Development Council, Colorado State University (CSU) System and the Douglas County School District. These partnerships will give students options to transfer to CSU or potentially move into a career field.
ACC President Diana M. Doyle said, "ACC has had a small campus in Castle Rock since 2011, and as the town has grown, so has our student population. The Castle Rock economic development leaders asked if ACC would ever consider having a larger presence in the community, and the time was right for us to expand."
For high school students in Douglas County, ACC will offer courses, both while they are in high school and after they graduate. High school students can enroll in classes concurrently while still tackling their high school course load. As students work on these classes at ACC, they can work toward completion of an associate degree within a shortened time frame. After that, students can choose to transfer credits to CSU or begin an internship or other opportunity with the County. Enrollment in concurrent courses does require prerequisites such as; SAT/ACT scores, evidence of expertise in courses or a placement test taken at ACC.
The campus, which is adjacent to Castle Rock Adventist Hospital, offers associate degrees in key business areas along with offering options for high school students to complete some college credits. The academic environment is focused on three primary areas; business, health and technology. There are also opportunities for general education and workforce training.
In terms of future growth, Doyle said, "The plan eventually is to construct a second building to the south of the current facility. Its focus, programs, and design will be informed by the evolving educational and workforce needs of the community and area. At its core, the campus – even in growth – will be centered on innovation."
Arapahoe Community College received a gift of up to $10 million from the Sturm Family Foundation. There is also an opportunity for matching funds up to $5 million from the foundation.
The ACC Sturm Collaboration Campus is a 43,000 square-foot facility located in Castle Rock at 4500 Limelight Ave. For additional information, visit: www.arapahoe.edu/about-acc/locations/castle-rock.