Lean on me: a season of giving
January 1, 2019
/
/
Comments Off

on Lean on me: a season of giving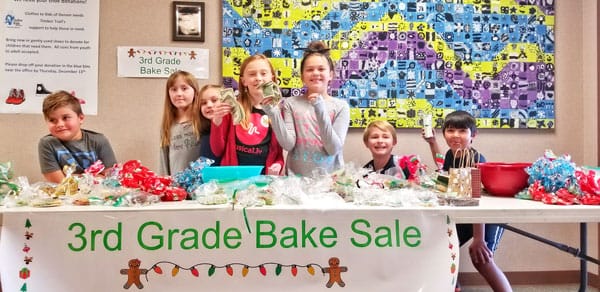 Students and faculty enjoyed the sweet treats during the Lean on Me bake sale.


Article and photos by Julie Matuszewski
Grateful is how several families from Crisis Center in Castle Rock felt over the holiday season for Timber Trail Elementary (TTE) third-grade classes participating in their project based learning (PBL) unit titled "Lean On Me." PBL is an instructional methodology that encourages students to learn and apply knowledge and skills through an engaging experience. TTE students got a real life lesson this year helping local families make their holidays a little brighter.
This year's TTE third-graders were hard at work trying to make the holidays a little brighter for their adopted local families. Five families were adopted, totaling 13 family members through Crisis Center in Castle Rock. The students participated in "Operation Elf" where they raised money to shop for holiday presents and wishes for each family member.
These elves kept busy in their homes with odd jobs of gift wrapping, decorating, dog walking and yardwork to help raise money for "Operation Elf". The most fun was in their home kitchens baking and whipping up savory sweet treats that were sold at the annual "Lean on Me" bake sale during TTE student lunches and recess. The bake sale has always been a hit and a favorite event for students, faculty and visiting parents.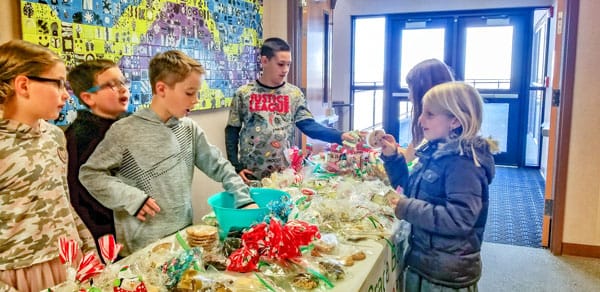 The third-grade classes raised $2,170 for their adopted families. This year's bake sales raised another $1,100 for a total of $3,270 to be spent on the 13 family members from Crisis Center. With the family wish lists in hand, the students researched store ads to compare products and prices before shopping for their holiday items. In addition to receiving much-needed items for their families, each family also received a King Soopers gift card to purchase a family holiday meal.
This PBL segment taught the students not only empathy toward others, but how to collaborate as a team, and it reinforced math skills of adding, subtracting, multiplying and budgeting for each item. TTE staff commented, "We are so proud of our third-graders and the entire Timberwolf community for coming together to make the holidays a little brighter for some very special people. The kids demonstrated such pride and ownership throughout this project and the experience will be one they never forget. It is our hope they will continue to be good stewards of their community."
Crisis Center "appreciated the support of our sponsors during our Adopt A Family program. The students from Timber Trail were able to share the holiday spirit with those in need by shopping and raising money for the families they "adopted." Our families appreciated the generosity and caring from total strangers to help make their holidays a little bit brighter." Brighter they were!