Liquid courage steals the limelight, earns gold
October 1, 2013
/
/
Comments Off

on Liquid courage steals the limelight, earns gold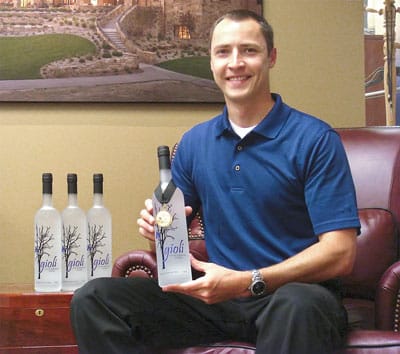 Local resident Dan Hachmeister created Gioli Vodka, which he calls "an awesome product at an excellent price." The spirit competed against 1,400 brands in the San Francisco World Spirits Competition and took the gold medal for quality, craftsmanship and price.
By Amy Shanahan; photo courtesy of Dan Hachmeister
Simplicity and elegance are the hallmarks of Gioli Vodka, which was created by Castle Pines Village resident Dan Hachmeister. This ultra premium vodka is relatively new on the scene, but has already secured gold medals for Best Vodka at the 2013 San Francisco World Spirits Competition and at the 2012 MicroLiquor
Spirit Awards!
Hachmeister started his company in 2011 with the goal of creating the best vodka on the market at an excellent price. Hachmeister grew up locally and has a background in finance and investment management. His love of vodka, coupled with his enthusiasm, work ethic, and desire to create something he could share with his friends spurred him to take a chance and begin his quest to create the perfect vodka.
Hachmeister worked with a master distiller in Oregon to create Gioli Vodka. The spirit is made with only the finest ingredients; it is one hundred percent corn-based and is therefore gluten free. The vodka is distilled and filtered five times using crushed volcanic lava rock, which removes any impurities and produces the smoothest vodka. One of the most interesting and fun facts about the product is the name Gioli, which is a blend of the Italian words "coraggio liquido" which means "liquid courage."
Hachmeister has been the sole driver of his business, having done all of the marketing, design and selling of his product. "It's been a challenge, but I've focused my marketing locally," remarked Hachmeister. "I taught myself the market and I spend most every weekend in stores doing tastings." Hachmeister is thrilled with the response that his vodka has received in stores all over Colorado, and his vodka is now available in more than fifty locations throughout the state. Hachmeister has been self-distributing up until this past June, when his product was picked up by a local Colorado distributor, Il Castagno.
Gioli Vodka has been a presence at several charity events, as Hachmeister is passionate about supporting local causes. He was a sponsor of the Douglas County Educational Foundation Golf Tournament and has been a sponsor for two years at the CASA Golf Tournament at The Ridge at Castle Pines North.
Gioli Vodka is currently available locally at Castle Pines North Wine and Liquor and Bubbles in Castle Rock.
For more information, visit www.giolivodka.com.