Local author publishes first book
December 1, 2020
/
/
Comments Off

on Local author publishes first book
Article and photos by Shaun Kernahan
For nearly three years, Brandi Kernahan has called Castle Pines home. She lives with her husband, Shaun, son Patrick and dog Fenway.
Kernahan has spent the better part of the last 15 years working in the health insurance industry, where she hoped to turn her criminology degree from the University of Phoenix into a job in contract law, but wound up in the compliance division instead. She now puts her degree to use by weaving crime and drama into her romance stories under the pen name of Ann B. Hulton. Kernahan lists James Patterson, Luanne Rice, and her favorite author, Nora Roberts, as literary influences. She takes pride in telling stories that feature strong female leads who buck stereotypes and hold their own in a traditionally male dominated line of work.
Kernahan grew up in Los Angeles, and on January 17, 1994 at 4:30 a.m., the greater LA area was rocked with a 6.7 magnitude earthquake known as the Northridge earthquake. Many businesses were damaged beyond repair, one of which was an after-school care and summer camp called Kidsville USA, where Kernahan spent much of her youth. Kidsville USA was run by her father, and when it was shut down, it was the 13-year-old's first true experience of loss and grief. She acted out and found herself in summer school – in a creative writing class.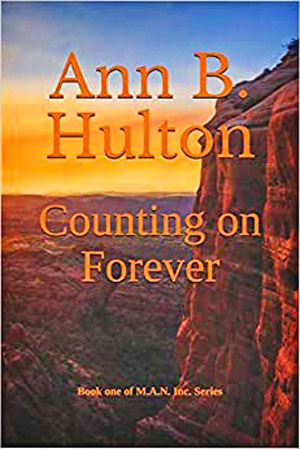 That summer, Kernahan reflected on the times she visited her grandmother in Arizona. It was her grandmother who introduced Kernahan to Jude Deveraux novels, and she started writing. It was through the written word, both reading it and writing it, that Kernahan found salvation from her grief.
As she grew up and encountered adversity, Kernahan found herself writing as an escape, and before she knew it, she had large chunks of a book written, then two, then three and many more. Now, Kernahan has decided to take those books and publish them, with the first being Counting on Forever, a crime-romance novel that is the first in the M.A.N. Inc. series.
Counting on Forever is set in Arizona and follows a former fitness model turned gym owner, Emma Clayton as she forms a newfound love with her childhood crush. She is forced to face the awful memory of being sexually harassed during a photo shoot that ended her modeling career. Counting on Forever is available on Amazon to order in paperback and ebook formats.