Local coach joins NFL Play 60 at Mile High Stadium
September 1, 2017
/
/
Comments Off

on Local coach joins NFL Play 60 at Mile High Stadium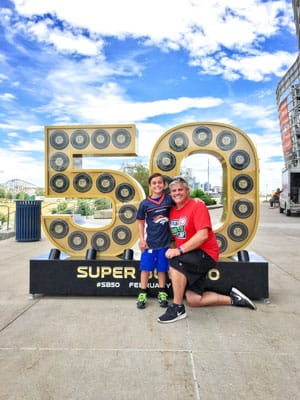 Evan (left) and dad Jim (right) after the Play 60 Character Camp pictured in front of the Broncos Super Bowl 50 monument commemorating their win against the Carolina Panthers. Inset: Denver Broncos mascot, Miles, was on hand to sign autographs at the Play 60 camp last month.
By Kathy Fallert; courtesy photos
The Denver Broncos invited Castle Pines Athletics to provide coaches for a NFL Play 60 "Character Camp" at Mile High Stadium on July 25. Castle Pines Athletics Coach Jim Holdridge volunteered his time to work at the camp. NFL Hall of Fame offensive tackle Anthony Munoz, formerly with the Cincinnati Bengals, partnered with the NFL to help host these camps, targeted at Hispanic youth in 14 cities nationwide.
The mission of the camp is to make a positive impact on these youth, ages 9 through 13, by teaching football skills while emphasizing exercise and reinforcing the importance of character in not only athletics, but life. NFL Play 60 is the league's youth health and fitness campaign aimed at getting kids active for 60 minutes a day.
Holdridge, a resident of Noble Ridge, attended the camp with his 9-year-old son Evan (who is home-schooled) and also with his 19-year-old son Nathan, who worked as an additional volunteer coach at the event while he was home from Hastings College in Nebraska. Holdridge also has a 14-year-old daughter Carissa, and she attends Lutheran High School in Parker, as well as a 17-year-old son Aaron who plays football for Lutheran High School.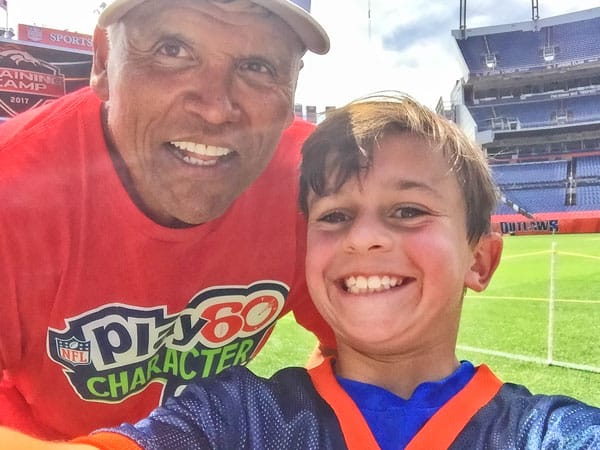 Castle Pines resident, nine-year-old Evan Holdridge (right), was very excited to take a selfie with Hall of Famer Anthony Munoz (left) at the NFL Play 60 Character Camp on July 15 at Mile High Stadium in Denver.
Holdridge began coaching tackle football in 1981 and continued coaching sons Nathan and Aaron in the Arapahoe Youth League for the Warriors from 2006 through 2013. Holdridge has coached flag football for Castle Pines Athletics since the league first started NFL flag football in 2015.
The Play 60 camp ran from 9:00 a.m. to 1:30 p.m. with a mix of activities and character-building messages. Holdridge said, "The message to the kids was great; focus was on good character tied with the NFL Play 60 for 60 minutes of exercise a day, good nutrition and safety. Meeting Anthony Munoz and watching Evan take a selfie with him was pretty cool as well."
Evan commented, "The activities were fun especially 'mission impossible' and 'tunnel ball,' but meeting and taking a selfie with Hall of Famer Anthony Munoz was really, really awesome!" (Mission impossible is a collaborative, teamwork game and tunnel ball is a fun relay-type race that combines dodge ball and an obstacle course.)
To learn more about the NFL Play 60 program, visit http://www.nfl.com/play60.