AA students go on stage and into the woods in their summer production
September 1, 2017
/
/
Comments Off

on AA students go on stage and into the woods in their summer production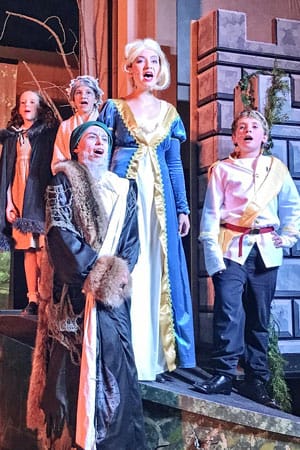 These fairy tale characters have almost succeeded in their quest for a happy ending: Little Red Riding Hood and granny played by Rebekah Jacob and Samantha Leeman, Rapunzel (sans her long hair) and her prince played by Victoria Xikes and Tate Murphy, and the "mysterious" baker's father played by Jared Engerman.

By Lynne Marsala Basche; photos courtesy of American Academy
The performing arts program at American Academy (AA) continues to thrive, and in July, the middle school summer camp performed an adaption of the musical fantasy "Into the Woods" by James Lapine and Stephen Sondheim to a rousing reception.
Mark Middlebrooks, director, specials department, selected "Into the Woods Jr" based on the popularity of the recent film adaptation, which fed into younger audiences. "I felt our students could embrace the musical complexity, comedic timing, and do so with effective story telling," said Middlebrooks. "This production is part of our American Academy Performing Arts Certification program, which is now in the fourth year of providing additional programming to students who wish to explore and develop a passion for the performing arts."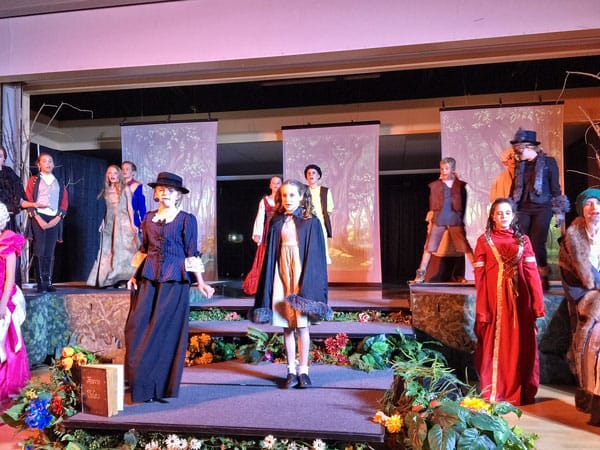 Fairy tale citizens of the woods contemplate the obstacles between them and their happy endings as they sing the opening number of the Lapine/Sondheim classic "Into the Woods." These student players are participating in American Academy Performing Arts summer programming.
The troupe met for two weeks, and performers practiced from 9 a.m. until 3 p.m. every day for eight days before the first show. Students were from both the Castle Pines and Parker campuses, and the AA Castle Pines performance space hosted all shows. The production had three casts, which included two fourth- through eighth-grade student casts of 40 performers and one cast comprised of students, AA alumni, and five staff members for the seven shows.
Students not only were on stage, but they also took ownership of backstage and technical roles with a goal that these types of experiences will prepare them for success on the stage, in the classrooms and in life.
Now in its 11th season of shows, the AA program has increased to meet student demand. Currently, AA produces five shows per school year with shows varying between being combined ages and age or campus specific performances.
"American Academy seeks to provide students with as many opportunities as possible to discover each individual's strengths and passion," said Middlebrooks. "Our performing arts programming presumes that students will rise to the level of their environment, and so we seek to nourish that environment with professional standards that range from production values (sets, costumes, props, lighting, sound) to professional staff who provide direction, coaching, and mentorship for each developing performer."
AA's 2017-2018 performing arts season will include productions of "Winnie the Pooh," "The Diary of Anne Frank," "Singin' in the Rain" and "101 Dalmatians." Visit www.aak8.org for additional information about future performances or the program.