Local Officials Gear Up for Election Day
October 1, 2008
/
/
Comments Off

on Local Officials Gear Up for Election Day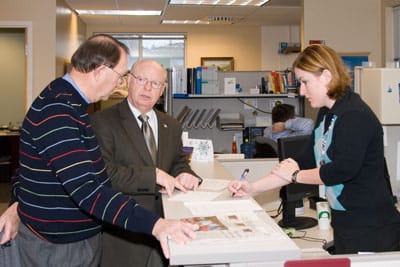 Douglas County Clerk and Recorder Jack Arrowsmith (center) confers with Dick Lichtenheld (left)

by Lisa Crockett
With a history-making presidential race and several important local races and issues on the November ballot, Douglas County election officials are offering several ways for voters to cast their ballot.
"We are encouraging voters to vote by mail, to visit a vote center early, or to bring a completed sample ballot to their designated polling place on Election Day," said Douglas County Clerk and Recorder Jack Arrowsmith. "Sample ballots are allowed in the voting booth."
Douglas County voters can now sign up to be permanently placed on a "vote by mail" list, which ensures that they will receive a ballot for every election run by the county election commission (special districts, like Castle Pines North Metro District, run their own elections.)
As the name implies, "vote by mail" ballots can be mailed back to the election commission and must be received (not simply postmarked) by 7 p.m. on Election Day in order to be counted. Alternatively, voters may drop ballots off at designated locations throughout the county.
Voters who wish to vote at a polling place may participate in early voting at locations throughout the county. Voters who want to cast their vote on Election Day, however, must do so at their designated polling place. On Election Day only, paper ballots will be available in addition to voting machines.
"If we start to have congestion at the voting machines on Election Day we can give paper ballots to people waiting in line in order to speed the process," said Arrowsmith.

Important Voter Information:
If you choose to vote on Election Day, you must vote at your designated polling place. To find your polling place, visit www.douglasvotes.com, or call 303-660-7444.
October 6: Last Day to Register to Vote in the General Election
October 20-30: Early Voting for General Election
November 4: Election Day, all mail-in ballots must be received in the Douglas County Elections Department by 7 p.m.
To verify voter registration, view sample ballots, find voting locations and link to other important voting information, visit www.douglasvotes.com or call the Douglas County Clerk and Recorder's Office at 303-660-7444.