Local Outreach Needs Food, Volunteers
December 1, 2008
/
/
Comments Off

on Local Outreach Needs Food, Volunteers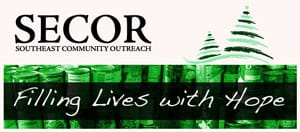 Southeast Community Outreach (SECOR) is a nonprofit, non-denominational organization operating in the southeast Denver-Metro area dedicated to demonstrating God's compassion for those in need by providing food, personal items, monetary and budgeting assistance to individuals and families experiencing financial insecurities.
Founded by Southeast Christian Church, SECOR gives a helping had to families in the area facing hardship throughout the year and during the Christmas season. SECOR's mission is to give families hope throughout their time of hardship and their goal is to never turn away a family in need.
SECOR will need hundreds of volunteers to help provide local families in need with two weeks of groceries and gifts for Christmas. To donate food or volunteer, please contact Brenda Prosise at Southeast Christian Church, 9650 Jordan Road in Parker. E-mail Brenda at Contact by email or visit their web site at http://secor.info/.